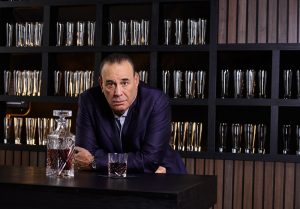 We recently caught up with Jon Taffer — industry expert, the host of Bar Rescue, and an entrepreneur with new ventures that include the opening of Taffer's Tavern restaurant and the launch of Taffer's Mixologist — for a follow-up on our discussion from April about the effects of COVID-19 on bars.
Now that bars and restaurants are reopening, we're starting to see some of the lasting effects on establishments. In addition to profits and the bottom line, one of the ways COVID-19 has hit bars and restaurants especially hard is through the customer experience. With restricted occupancy limits, the need for masks and social distancing, and increased cleaning protocols, going out for a drink and a bite to eat looks vastly different.
Understandably, many consumers are not ready to return to bars and restaurants. According to an ongoing study by AMC Global and OpinionRoute on consumer preferences during COVID-19, for bars and restaurants with outdoor seating, 47% of respondents believe now is the right time to open in their state, and 38% believe it is too soon. For indoor seating, 29% believe now is the right time in their state, and 63% believe it is too soon for indoor dining.
Taffer believes customers are going to return to bars in three waves. The first third are young, fearless consumers who will return right away.
The second third he dubs the "reserved third." "They're going to reserve their decision for a couple of weeks to see what happens with the first third," says Taffer.
The last wave is the "certain third." "They're not coming out until they're certain they're safe. They tend to be a little older demographic, and they tend to be ones with preexisting conditions so they're more conservative. But here's the kicker: They're the ones with the disposable income," says Taffer. "We need to understand as an industry the most affluent of our audiences, the ones with the greatest disposable income, the ones most inspired by premium products and premium environments, are going to be the last ones to come out in many cases. So when we take a look at the future, we have to reassess our value proposition. We really need to understand our customers now like never before."
For Taffer, success in this new world depends on identifying new customer perceptions about our establishments and meeting customer expectations about safety. "The biggest issue we have is how do we control how people perceive the safety of our businesses?" he says. "Safety now comes before product quality. Safety now comes before mixology.
"If we don't master our perception of safety, and if we don't match our assets, our music, our environment, our price points, and our products to the shifts that this post-pandemic world is going to create, we're going to miss and we're going to lose. And that's why I call this a reset and not a reopening. Because none of us are reopening like we used to, and all of our customers are going to change somehow."
The first step is in recognizing how customers have changed in light of COVID-19—and not just customers in general, but your bar's very specific demographic. "We need to make certain that we provide the environment that checks the first box on their list, and for the vast majority of the population, the first box on the list is: Is it safe?" says Taffer. "The second box on the list is: Do I connect to the environment?"
What makes an establishment "safe" will differ for each customer. "We as an industry are seeing our biggest challenge," says Taffer. "Are we going to establish ourselves as the place to go post-pandemic, and what does that mean?"
One of the most visible, polarizing arguments in regards to safety protocols is over the issue of masks. Some states mandate the wearing of masks in public places, but in others, it's only a suggestion. Is your bar going to require that masks be worn or not?
Taffer says whether a bar enforces mask wearing or not can affect the feelings of other guests and whether they patronize the establishment. For example, if a patron believes wearing masks is the right thing to do and then sees a group of people at your bar without them, they are unlikely to patronize your establishment—no matter what other safety protocols you may have in place.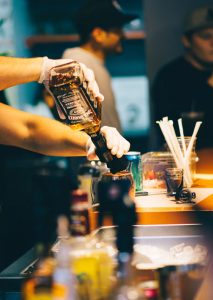 This is where it becomes extremely important to know your individual customer base. Take a close look at who your customer is and what their values and belief system looks like.
Once you have a clear picture of your target customer, Taffer says bars should approach the decision of masks or no masks like anything else in their bar: music, food, prices, etc. "We make these decisions as an industry every day," he says. "Are you a country bar or a rock-and-roll bar? Today, are you a mask bar or a no-mask bar? The magnitude of the decision is no greater than the music decisions that we make and the other decisions that we make that not only target an audience, but chase one away."
It can be easy to view all of this change as a bad thing, but owners should instead focus on how to improve their business models and build better connections with their customers.
First and foremost will be getting people back through the door.
Taffer recommends offering incentives for takeout and delivery customers to help ease the transition back to indoor dining. "If you have delivery services, I would be couponing everything for eating inside," says Taffer. "I wouldn't be giving discounts for delivery, but everything you've got, every bag you got from me, would have something in it to get you inside."
Taffer concluded by reminding bar owners and operators that fears about health will be with us for a while. "Even as the virus dissipates and lessens, people will still have germs and safety on their minds," he says. "It's just going to be the way we operate."
By Ashley Bray
Photos (top to bottom): Taffer Media, Sandra Seitamaa on Unsplash