Ficks Beverage Co teamed up with like-minded brands like Skinnypop, Patchology, Sea Snax, Fun Socks, and Smart Sweets to launch a "Movie Night Box," which comes complete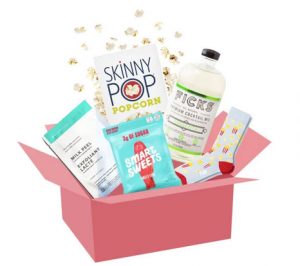 with donations from each brand for the best indoor movie night during social distancing. The LTO box is priced at $35, with 100% of the proceeds going to the USBG's Bartender Emergency Assistance Program.
The vegan, health-focused Movie Night Box box comes complete with:
1 bottle of Ficks Premium Margarita Mix (32 oz)
1 pack of Skinnypop Microwaveable popcorn
1 pair of Fun Socks (men's or women's)
1 pack of SmartSweets low-sugar candy
1 FlashMasque Milk Peel 5 Minute Sheet Mask
1 bag of organic SeaSnax roasted seaweed snacks
1 20% rebate on one future Ficks purchase from any store.
Ficks has gained a following and praise for its all-natural fruit base in its seltzer and its commitment to low-sugar, quality-tasting mixers. They are excited to give back to the bar and drink enthusiast community that has welcomed them so warmly in the last two years.