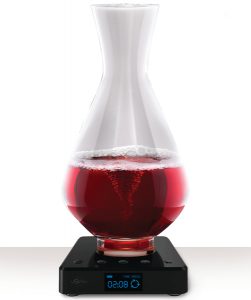 Bevstir Innovations Inc., manufacturers of the vSpin premium active wine decanting system, today announced that it has been awarded the prestigious 2018 German Design Award. The German Design council acknowledges companies who generate added brand value through design and has recognized vSpin for its pioneering contributions to
the German and international consumer product design landscape.
Only contributions that have been nominated by the "Design Innovation Product Scouting" panel of the German Design Council or by its foundation members are allowed to compete for the German Design Award. The highly esteemed, international jury identifies and presents unique design trends: a competition that advances the design-oriented scene.
The vSpin/Spiegelau active wine decanting system significantly simplifies the art of aeration and decanting. Such performance arises from the product's patented and pending methodology, which creates a gentle and silent wine vortex. As a result, the surface area of the wine is increased in a controlled and continuous manner. By accelerating oxygenation, the vSpin active wine decanting system mellows the harsh tannin textures. At the same time, it releases the wine's subtle flavor. vSpin users enjoy enhanced aroma, a richer bouquet and exceptional visual presentation with a full bloom.
"We are honored that Bevstir Innovations Inc.'s vSpin has been awarded the 2018
German Design Award," commented Charn Rai, founder of Bevstir Innovations Inc.
"vSpin is a combination of new-world functionality and old-world elegance and we are
pleased that the German Design council shares our goal in providing consumers with
products that not only work extremely well, but add a degree of elegant design to their
surroundings."
Wine enthusiasts and every dining establishment with a grand wine list who want to
unleash the full-bodied flavor, aroma and bloom of their favorite vino in less time can
learn more about the vSpin active decanting system online.