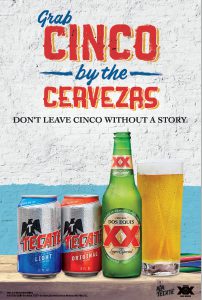 Combining two powerhouse Mexican Import brands in one festive promotion, HEINEKEN USA's Dos Equis® and Tecate® are supporting the idea that Cinco is more than a just day on the calendar; it's a mind-set focused less on tradition and more on having fun and celebrating. Cinco de Mayo, ranked a Top 5 dollar-volume holiday, is the perfect opportunity for retailers to partner with HEINEKEN USA to help consumers celebrate the day with these popular Mexican Imports and "Grab Cinco by the Cervezas."
"We're ramping up for Cinco 2019 with creative on- and off-premise merchandising, as well as feature and event amplification through social media," says Alison Payne, Vice President, Marketing Mexican Beer Portfolio at HEINEKEN USA. "Grab Cinco by the Cervezas images sized for Facebook and Instagram posts are perfect for advertising features and specials," continues Payne. "We'll be getting the word out about account activations, so accounts can be confident that consumers will be calling for Dos Equis® and Tecate® when their thoughts turn to Cinco."
This year's program invites consumers to enjoy all that Mexico offers, especially its beers. With Dos Equis® as the #1 Mexican franchise on draft[1] with the highest ROS[2], and Tecate® possessing 75 years of Mexican Heritage and yielding 41% greater dollar lift versus import segment when promoted[3], these two exceptional brands are sure to bring some spice to Cinco this season. Additionally, earlier this year Tecate® launched Tecate® Titanium, the first Mexican import in the category with a high ABV that delivers a bold, yet refreshing taste which consumers can also enjoy this Cinco De Mayo.
To drive awareness, social media templates will advertise Cinco de Mayo features, specials, and holiday events while thematic, channel-specific POS and saleables will bring the promotion to life on- and off-premise. High-impact retail theater dresses up Dos Equis® and Tecate® displays and a partnership between Dos Equis® and Jose Cuervo® offers shoppers a one-stop party supply solution to drive takeaway.
On-premise, brand ambassadors will be on hand to sample patrons (where legal) and to distribute thematic premiums while Mariachi bands and dueling dancers fuel the festivities, enhance the customer experience and provide social-worthy photos.
[1] Nielsen Volume report Total US 4 w/e 12/29/2018
[2] Nielsen ROS report Total US 4 w/e 12/29/2018
[3] Nielsen L52 w/e 9/22/2018