Home
Authors
Posts by Ashley Bray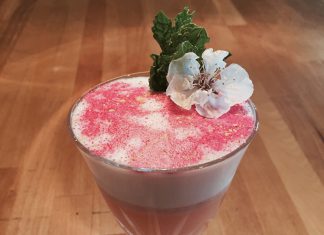 Spring Flowers Fern Mallis', Creator of New York Fashion Week, Spring Fashion Trend: Floral Prints and Sorbet Colors Pairing Cocktail: With floral garnishes and a scoop of sorbet, this Spring Flowers cocktail will complement this season's...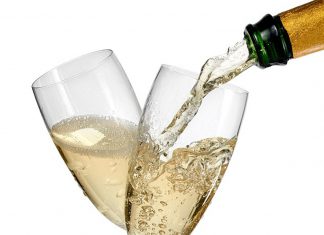 Ingredients: 1 ½ part DISARONNO 1 part lemon juice ½  part simple syrup 1 ½ parts Prosecco Method: Add all ingredients except prosecco into a mixing glass with ice. Shake for 10 seconds. Strain into a cocktail glass. Top with...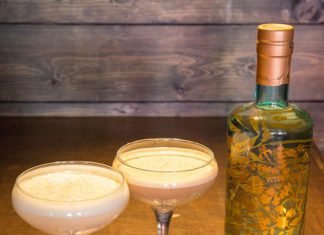 White Chocolate Albury Flip Ingredients: 20ml Silent Pool Gin 20ml Mozart White chocolate liqueur 20ml liqueur 43 20ml sugar syrup 1 whole egg. Method: Add all ingredients to a shaker and shake with out ice. Then add...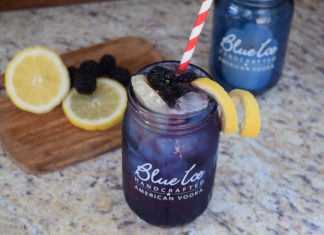 Blue Ice Vodka's "The Skinny Carrot" Ingredients: 1.5 oz Blue Ice Vodka 3 oz carrot juice 1 oz apple juice 2 thin slices of fresh ginger Lime garnish Directions: Muddle the ginger slices in the bottom of a shaker glass. Add Blue...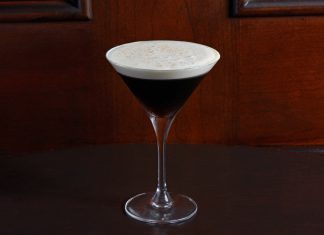 Ingredients .5oz Galliano Ristretto 1.5oz Chilled Irish Coffee Mix** 1.5oz Clontarf Irish Whiskey Method: Add Irish Whiskey, Cold Coffee Mix to a bottle & refrigerate, Add cold Whiskey & Coffee Mix into a pre-chilled Irish Coffee glass and...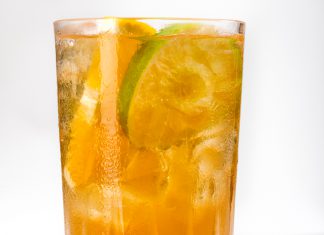 1½ oz. Barceló Imperial Rum ½ oz. Orange Curacao ¼ oz. Fresh Lime Juice 2 Dashes Angostura® Bitters 2 oz. Ginger Beer Build in a highball glass and fill with ginger beer.  Garnish with a lime wheel and an...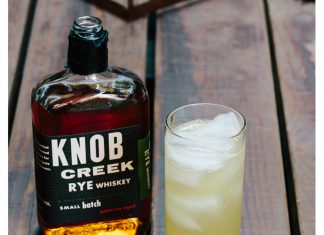 INGREDIENTS 1 ½ Parts Knob Creek® Rye Whiskey ¾ Part fresh lemon juice ¾ Part JDK & Sons Fleur Handcrafted Elderflower Liqueur Ginger Beer Angostura® Bitters METHOD 1. Add Knob Creek® Rye Whiskey, fresh lemon juice and elderflower liqueur into a...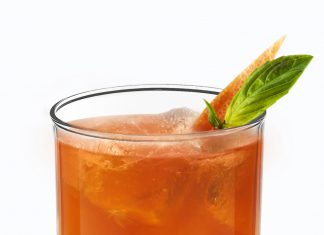 INGREDIENTS 2 Parts Basil Hayden's Bourbon ½ Lemon muddled with Thai basil leaf 1 Part Aperol ¾ Part Simple Syrup (1:1 ratio of equal parts sugar and water) 1 Grapefruit peel (for garnish) 1 Thai basil leaf (for garnish) METHOD 1. Combine...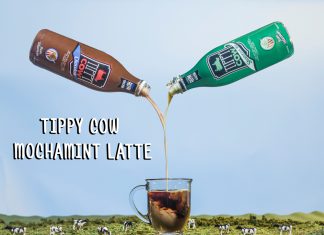 1/2 part Tippy Cow Chocolate 1/2 part Tippy Cow Shamrock Mint 3 parts hot coffee Created by Tippy Cow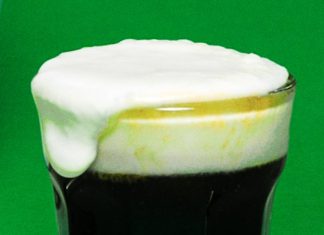 1 part RumChata Splash Irish Whiskey 1 part Patron Cafe XO Pour chilled Patron Cafe XO into Shot glass. In a shaker, add a splash of Irish Whiskey to RumChata and shake vigorously. Layer on top of...