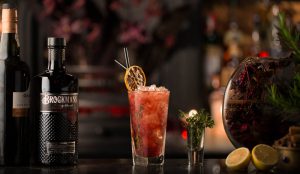 Ingredients:
1.5 oz. Brockmans Gin
1.0 oz. Lemon juice
0.25 oz. Balsamic vinegar
0.25 oz. Ruby Port
0.25 oz. Berry liqueur
Fresh thyme
Directions:
Fill a highball glass with crushed ice, break thyme, and churn in the glass. Add all ingredients. Stir well. Garnish with thyme and a dehydrated slice of lemon.
Courtesy of Brockmans Gin.