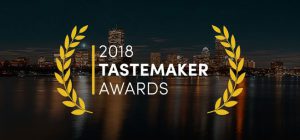 Wayfair Inc., one of the world's largest online destinations for the home, today announced the winners of the fourth annual Wayfair Professional Tastemaker Awards, recognizing excellence and innovation in design.
This year's judges, entrepreneur and "Shark Tank" investor Barbara Corcoran, Architectural Digest reporter Hadley Keller and hospitality architect Stephen Sousa, carefully evaluated entries based on quality, inspiration and creativity. After reviewing more than 5,000 submissions, one outstanding winner was identified across each of the five categories; Best Residential Space, Best Hospitality Space, Best Office Space, Most Innovative Space and Design of the Year.
"The 2018 Tastemakers are truly pushing the boundaries of innovation and design and are raising the bar for the future of the industry," said Margaret Lawrence, vice president, Wayfair Professional. "Through their passion and talent, these skillful designers were able to transform ordinary, everyday spaces into masterpieces with unexpected textures and fresh motifs. We're honored to partner with our extraordinary judging panel to select this year's winners."
2018 Wayfair Professional Tastemaker Winners
Best Residential Space: Marie Flanigan Interiors
Best Hospitality Space: Elizabeth Ingram Studio
Best Office Space: Patina Design
Most Innovative Space: Favreau Design
Design of the Year: PROjECT. interiors
"This year's winners deserve all the notoriety in the world! Each one thought way outside the box and delivered a totally fresh look and a clever use of space! It's easy to think of a great design idea, but very hard to execute it, and it was the flawless execution and attention-to-detail that made each project shine." – Barbara Corcoran, investor on ABC's four-time Emmy award-winning show, "Shark Tank"
"The best part of my job is seeing the immense creativity of designers around the world. The Tastemaker winners truly exemplify that. I love how this year's group shows such a broad range of style, space, and location. Our winners are a Texas restaurant with traditional details underscored in fresh, modern ways, a Chicago office that masters natural materials, a delightfully eclectic and wholly unique workplace, a serene, elegantly-tailored residence and another that's a collected testament to travel—proof that great design comes in many forms!" – Hadley Keller, digital design reporter for Architectural Digest, and editor for AD PRO, the publication's trade-focused vertical
Award winners were recognized at an exclusive dinner with the judges in Boston and toured Wayfair's global headquarters, including the Wayfair Next R&D Lab, where virtual reality and augmented reality technologies for the visualization of home furnishings are developed.
"Good design is composed of multiple layers and creates an unforgettable atmosphere. The ability to listen to a client, understand their needs and use their input as a project's driving force is a designer's strongest trait. Going through the submissions was refreshing and there was a clear representation of great design that is not of the time, but timeless." – Stephen Sousa, founder and principal at Sousa Design Architects, an award-winning firm specializing in hospitality
The 2018 Tastemaker awards are sponsored by Stanley Furniture, a design, marketing and overseas sourcing resource in the upscale wood residential market; Mohawk, a global flooring and rug manufacturer; Kimball, a design-centric office furniture manufacturer; and Perigold, an online retail destination for luxury home furnishings and décor.