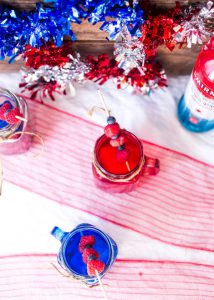 Ingredients:
1.5 ounces Smirnoff Red, White & Berry
4 ounces Ginger Beer or Ginger Ale
1/4 cup fresh berries- blueberries, raspberries or blackberries
Squeeze of lemon (optional)
Directions:
In a shaker, muddle half the berries with the vodka, add ice and shake. Pour into an ice filled mason jar. Top with Ginger Beer and a squeeze of lemon. Garnish with fresh berries on a skewer.
Courtesy of Sylvia Fountaine, Feasting at Home