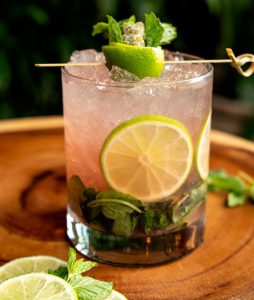 Ingredients:
2 pumps Absinthe (pumped from a spray bottle)
1.5 oz Lime Juice
2.0 oz Rhubarb Syrup (see prep recipe below)
2.0 oz Bulleit Bourbon
1 handful Mint Sprigs
1 ml or 1 dropper of CBD water soluble solution by CBDfx
Rhubarb Syrup
43 oz Water
43 oz Sugar
43 oz Frozen Rhubarb
Yields 1 gallon of syrup
Directions:
To make the syrup, bring water, sugar, and frozen rhubarb to a boil. Reduce heat and cover (you want minimal reduction) for 45 minutes to an hour. Pour through mesh colander and make sure to squeeze all the juice out of the rhubarb fibers. Pour into a gallon container with a lid, label and store refrigerated. Shelf life is 1 month from date of prep.
To make the cocktail, put a small handful of mint in a Double Old Fashioned glass. Spray inside of the glass with absinthe and set the glass on fire. Immediately pour lime juice into the glass, followed by the rhubarb syrup. Fill the glass with crushed ice pour Bourbon over the ice and stir. Add 1 ml or one dropper of CBDfx water soluble solution. Garnish with hemp sword pick with (1) CBDfx gummie (Note: that the total amount of CBD in one drink is 25 mg.)
Recipe and photo courtesy of Innovative Dining Group's Sushi Roku and Katana Chicago.