In September 2021, Ardbeg will launch the third batch of its permanent 19-year-old expression, Ardbeg Traigh Bhan (pronounced TRI VAN). Produced in small batches and released year-on-year, this exceptionally rare and ever-changing dram draws its inspiration from Islay's Traigh Bhan beach, known locally as the Singing Sands. Beguiling as this beach is, it can also be treacherous. The Sands are seductive yet volatile, and this whisky is no different.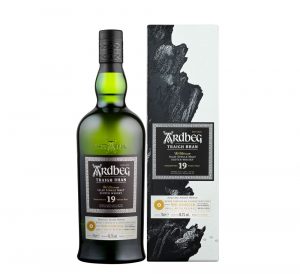 Batch 3 follows in the footsteps of the batches that came before it, but with slight changes to the cask selection, resulting in a somewhat spicier dram. An impossibly balanced flavor profile gives rise to delicate notes of zesty lime and walnuts alongside bolder flavors of cayenne pepper and aniseed.
The circumstances in which Batch 3 was bottled were strikingly different to previous releases too. A whisky sent to the furthest reaches of the Ardbeg Warehouse, Ardbeg 19 Years Old Batch 3 was eventually bottled in the midst of a global lockdown. Having spent months on end behind closed doors, this unprecedented bottling is now ready to come out from the dark… and into the light.
Each batch carries its own unique code, batch symbol and signature from one of the Distillery's famous faces – this year it's Dr Bill Lumsden, Ardbeg's Director of Distilling and Whisky Creation. He said: "It's an honor to put my name to this whisky. It's an exciting evolution on previous batches, bottled in exceptional circumstances. This is a part of Ardbeg's history."
Colin Gordon, Ardbeg's Distillery Manager, said: "To mark the release of Batch 3, I'll be hosting an exclusive online tasting for Committee Members on 30th September, as part of our Ardbeg General Meeting (AGM). After spending so long behind locked doors, I can't wait to dive into Traigh Bhan and shed some light on the finer details of this exceptional dram…"
To learn more about this bottling and be the first to know about any future Ardbeg whiskies, join the Ardbeg Committee today. You can become a member by signing up at ardbeg.com/committee. Membership is free and all Ardbeg fans are welcome.
TASTING NOTES:
Age: 19 Years Old
ABV: 46.2%
Price: $299.99
Maturation: Matured in American Oak & Oloroso Sherry casks
Color: Rose Gold
Nose:
A burst of sweet, scented wood smoke billows, mingled with hints of sea-spray, as if carried on a breath of wind along a shoreline. Wisps of pine resin, aniseed toffee and a suggestion of flowering lilies follow on a breeze. Citrus zest and a touch of cayenne pepper flood in.
A sudden splash of water brings forth floral waxy notes along with charcoal and fish oil, and finally a drop of classic Sherry and linseed oil.
Taste:
A tide of rich, sappy texture is followed moments later by classic, sweet, smokiness, with tarry rope and treacle toffee bobbing on the palate. Aniseed twists and soot ripple in a second wave. Smoke is distant now but present, while smoked brown sugar, sugar coated walnuts and gentle spices ebb and flow.
Finish:
A long, unhurried finish carries bitter almonds, linseed oil, clove, pepper and soot in its wake, slowly drifting away.