Today, The Balvenie Single Malt Scotch Whisky launched its Rare Marriages Range in the U.S.: a collection of three distinct and luxury single malt Scotch whiskies, including the all-new Balvenie Twenty-Five, and refreshed versions of existing expressions, The Balvenie Thirty and The Balvenie Forty.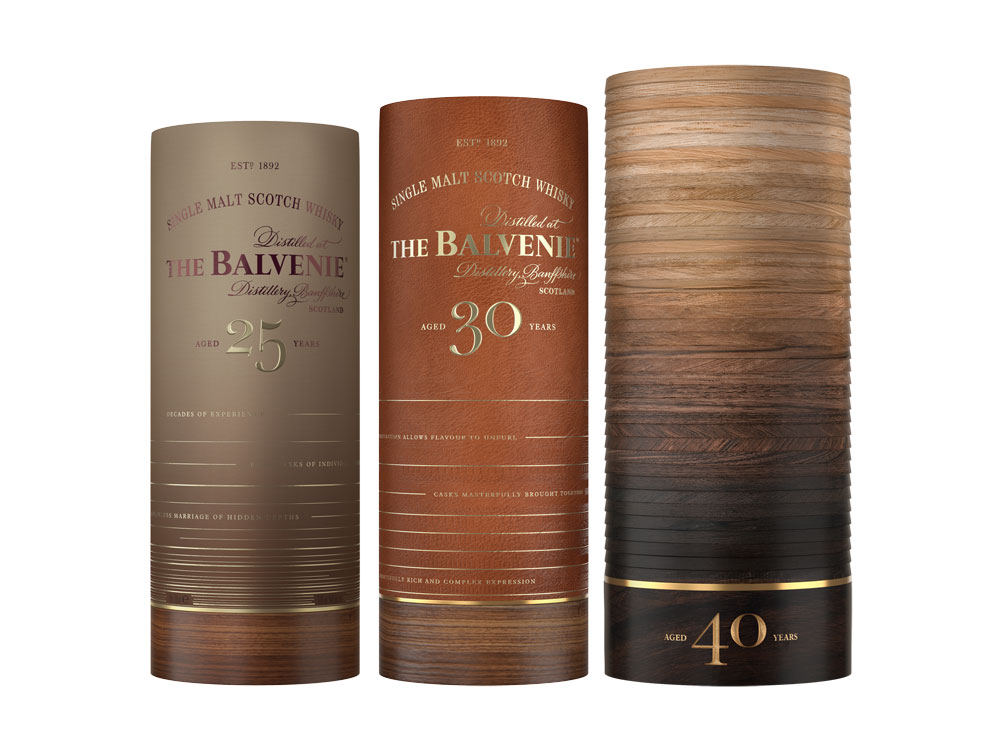 Crafted through a seemingly simple, yet incredibly complex process that translates throughout each of the whiskies themselves, the Rare Marriages range continues to exemplify the unrivaled expertise and dedication to the craftsmanship of Malt Master, David C. Stewart MBE. David draws on stock from The Balvenie's oldest and rarest whiskies to create perfectly balanced marriages – showcasing the essence of luxury through the experience of various flavors.
On the surface, each of the Rare Marriage expressions has a recognizable smooth finish with tastes of rich honey that The Balvenie single malts are known for – but sip after sip, liquids reveal differentiated and unique flavors through complex layers of depth, richness and refined character.
"The Balvenie Rare Marriages Range is designed to unveil the intricacies of our whisky in a bold marriage of extraordinary character," says Malt Master, David C. Stewart MBE. "This range, made from casks that have stood the important test of time, has a distinct profile and experience which we have designed to reveal the wonderful depth of The Balvenie Single Malt."
Neil Strachan, U.S. Ambassador, The Balvenie said: "The Balvenie is dedicated to tradition through generations of family-owned, handcrafted whisky, allowing us to create a simple yet complex spirit that spans decades." Naomi Leslie, U.S. Ambassador, The Balvenie, added: "Our newly released Twenty-Five is a beautifully unexpected whisky, revealing layers of candied ginger, toasted coconut, and hints of black pepper as you continue to sip and enjoy."
To craft The Balvenie Twenty-Five, David carefully chose some of The Balvenie's rarest Traditional American and European Oak casks to create the special tasting profiles designed for the range. These single malt whiskies had matured for twenty-five years and were handpicked to complete the layers of flavor envisioned. The two casks were then married together in the brand's Traditional Oak Tuns for just the right amount of time to become one sophisticatedly simplistic expression. The Balvenie Twenty-Five is intricate yet perfectly balanced to create an elegant, fruity expression hinting at bold vanilla oak, crystallized ginger, and sweet rich honey.
The Balvenie Rare Marriages Range is now available in limited quantities across the U.S. at suggested retail prices of $799.99, $2,400, and $6,750 for The Balvenie Twenty-Five, The Balvenie Thirty, and The Balvenie Forty, respectively.
The Balvenie Rare Marriages Tasting Notes
The Balvenie Twenty-Five (Aged 25 Years – 48% ABV non-chill filtered of natural color):
Nose: Soft autumn fruits, runny honey, crystallized ginger, and raw cane sugar; An underlying rich oakiness creates complexity and structure
Taste: Bold vanilla flavors with layers of toasted marshmallows, fresh fruit terrine and cinnamon-infused apple tart
Finish: Exceptionally long-lasting sweetness
Packaging: Presented in a case of rich burgundy color that graduates to a lighter ombré hue, representing the evolution of flavors in the marrying process; Rings of white gold foil represent each year of maturation
SRP: $799.99
The Balvenie Thirty (Aged 30 Years – 44.2% ABV chill filtered of natural color) marries Traditional American and European oak casks that have matured for decades – crafting the sweetest and most honeyed expression.
Nose: Smooth and honeyed on the nose with mellow oaky tones and hints of candied orange peel
Taste: Great depth with rich dark chocolate, hints of plum, marzipan, and caramelized pear
Finish: Exceptionally smooth and warming with gentle spice and lingering sweetness
Packaging: Constructed of soft goat leather, details include gradually faded debossed pattern rings, inspired by the distillery to represent the unfurling of flavor in the marrying process; Finished with white gold foil, creating a highly tactile and luxurious touch
SRP: $2,400
The Balvenie Forty (Aged 40 Years – Cask Strength and of natural color) is the boldest character in the range, holding an intense honeyed oak and rich, fruity flavor, layering both sweetness and spice.
Nose: Honey and orange marmalade notes mingle with creamy fruitiness, followed by a luscious wave of vanilla and a hint of oak
Taste: Orange blossom, candied ginger, and honeyed sweetness, followed by oak, mouth-coasting vanilla notes, and a delicate, sherried fruitiness
Finish: Warm and elegant with a honeyed citrus richness
Packaging: The liquid is presented in an oak based structure comprised of stained rings; the ombré tones depict flavors that unfurl in the marrying process
SRP: $6,750