Skrewball Peanut Butter Whiskey, the original peanut butter whiskey, is now the Official Whiskey of the Buffalo Bills. Skrewball branded bars will open inside the Pepsi Club and Toyota Club at Highmark Stadium this season.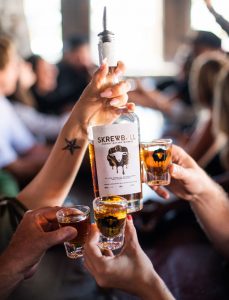 "Skrewball is a great product with a great story and has quickly become a staple at tailgates and games across the United States," said Dan Misko, Pegula Sports & Entertainment senior vice president of business development. "We're proud to welcome Skrewball Peanut Butter Whiskey as the Official Whiskey of the Buffalo Bills."
Skrewball Peanut Butter Whiskey was created by husband-and-wife duo, Steven and Brittany Yeng. Steve is a Cambodian refugee and polio survivor, who created a peanut butter cocktail while bartending at his bars in California. He partnered with his wife, a chemist and lawyer, to develop Skrewball Peanut Butter Whiskey and is now widely distributing both nationally and internationally. Fans at Highmark Stadium this season will see Skrewball signage and have an opportunity to enjoy the product while cheering on the Bills. Specially branded bars in the Toyota Club and Pepsi Club will serve uniquely created cocktails that feature the popular flavored whiskey.
"We're excited to become the Official Whiskey of the Buffalo Bills. They have an extremely loyal fan base and a deep history as a franchise," said Steven and Brittany Yeng, Skrewball Peanut Butter Whiskey founders. "We look forward to working with the organization and can't wait for an exciting upcoming season."