Proof & Wood Ventures, the spirits company founded by spirits industry veteran Dave Schmier, has launched Vertigo 2021, a follow-up to their 2020 release of the original Vertigo.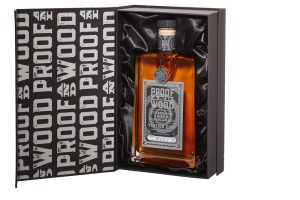 The new Vertigo 2021 is a dizzying 12-barrel blend of extraordinary American Blended Whiskey. The blend consists of 2012 Rye, 2015 Bourbon and 1992 and 2008 Light Whiskey, all distilled at Seagrams/LDI/MGP. The Rye is 95% rye and 5% barley and the Bourbon is 21% rye, 75% corn and 4% barley.
"Since founding Proof and Wood in 2015, it has been fun to acquire a library of older and interesting whiskies which can be blended for some unique whiskey experiences. Fortunate that we were able to acquire and highlight 25 year-old whiskey from the old Seagrams days in Indiana, sad that is the last we have and last we know to exist of that vintage." says Schmier.
The vertigo 2021 was of course supposed to be released in 2021, but supply chain and production issues delayed launch until 2022. The Vertigo 2021 is also the first expression from Proof and Wood in newly authorized 700ml bottles. "This allows us to export to Europe and share these small batch whiskies with our friends across the Atlantic." – Schmier
The 1992 Whiskey gives the blend unique flavors of butterscotch caramel and slight mustiness from age. The younger Light Whiskey and Bourbon create a sweet backdrop for the spicy intensity of the Rye.
Beautifully packaged in a gift box, Vertigo 2021 is a special release item with approximately 1500 hand-numbered bottles at 102.3 proof. There will be select national distribution across the US with a suggested retail price of $150.