Celebrated for its rich history in creating the world's  top-selling and trending bitters, The House of ANGOSTURA has long inspired the creation of premium cocktails, from classic to contemporary to Tiki compositions.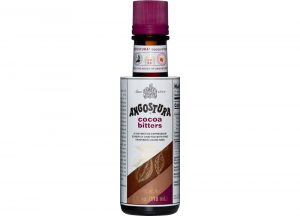 Marking the brand's first bitters category innovation since the debut of ANGOSTURA orange bitters in 2007,  ANGOSTURA introduces the third flavor in its distinguished portfolio with the launch of ANGOSTURA cocoa bitters.
The ANGOSTURA brand's unparalleled bitters expertise paired with the finest locally harvested Trinitario cocoa come together to craft the brand's newest indulgent flavor – ANGOSTURA cocoa bitters.
Crafted in Trinidad with local Trinitario cocoa and a bespoke blend of herbs, spices and botanicals, ANGOSTURA cocoa bitters infuses aged spirits with top notes of rich, deep flavor complexities. ANGOSTURA sources all the Trinitario cocoa nibs used in crafting ANGOSTURA cocoa bitters from local farmers of Trinidad & Tobago. This partnership improves and protects the livelihoods of the islands' farmers, while ensuring the highest ingredient quality. Trinitario cocoa is  legendary—often referred to as the finest cocoa worldwide. Trinitario cocoa pods, a hybrid of the Criollo and Forastero varietals, boast a range of striking purple hues before harvest time, and offer the most delectable characteristics from each parent plant.
Just a dash of ANGOSTURA cocoa bitters breathes exotic island life and adds undeniable flavor to any cocktail. Rich and dark brown in hue, ANGOSTURA cocoa bitters envelops the nose in aromas of inviting warm spices with floral and citrus undertones. It infuses sumptuous top notes of rich, nutty cocoa balanced with botanicals and light spice notes, with a lasting bitter finish.
There are no limits when it comes to how ANGOSTURA cocoa bitters can be used in cocktails—whether topping off a classic cocktail or imbuing richness in niche pours, ANGOSTURA cocoa bitters brings drinks to life. Its cocoa tones blend seamlessly with a wide range of fine spirits such as sweet vermouth or aged spirits like whiskey, rum, cognac, and tequila. Just a dash of ANGOSTURA cocoa bitters adds dark, rich complexities to cocktails.
Premium cocktail recipes using ANGOSTURA cocoa bitters include the Espresso Grog, Por mi Amante, Boulevardier, Gin Manhattan, Coffee Swizzle, Vieux Carré, and Widow's Kiss. Visit angosturabitters.com for these recipes and more.