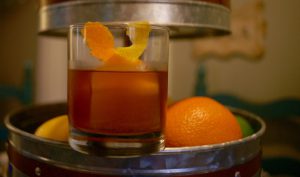 I drink bourbon, but I hate rye," is something that we behind the bar seem to hear all too often lately. Over the years, bourbon and rye sales have steadily increased as more and more consumers are skipping the craft beer or flavored vodka of the moment and heading straight to a brown spirit. The trend of ryes has finally begun to grow and is really making an impact in the industry.
Since 2014, distilleries have been producing more and more ryes due to demand in the marketplace. Bartenders are using it more and more in cocktails and are educating their customer base, and in turn, customers are becoming more "daring" and thinking outside the box for a flavor experience.
Rye whiskeys tend to produce bolder flavors and spices than that of a bourbon. They create more complex cocktails and ultimately a better drink—in our humble opinion.
This means your customers will probably be asking for rye recommendations (if they aren't already). Recommend a rye based on what their palette is geared towards.
When a customer is first tasting new ryes, we suggest three tiers. First, have them try the rye on its own with just a single cube.
The next step would be a classic, well-made Rye Manhattan. Rye pairs perfectly with the complex notes and flavors of sweet vermouth. We like to add orange bitters to our Manhattans as the cardamom and coriander flavors blend perfectly with the rye and the subtle sweetness of the vermouth. Give the drink a nice stir for 30 seconds (please don't shake it—we beg you!) and strain it into a chilled coupe glass or over a king cube in an Old Fashioned glass and garnish with a brandied cherry or an orange shard for a perfectly balanced cocktail.
The final approach is to craft a well-made cocktail using a base spirit (in this case rye), some bitter (usually by adding bitters or a bitter liquor), and some sweetness to balance (a homemade syrup or sweet vermouth).
We had the opportunity to taste and test three different ryes: Woodford Reserve® Straight Rye Whiskey, Lot No. 40 Canadian Rye Whisky, and J.P. Wiser's Canadian Rye.
First up is the Woodford Reserve Rye, which was launched in 2015 after 10 years of testing, tasting, aging, and perfecting. This particular rye was aged for four years, and it was definitely worth the wait.
We were able to sit down with a bottle and do what we do best. Drink and create cocktails—we know, tough life! Since the rye mash is matured in old Woodford Reserve bourbon barrels, it leads to brown sugar, tobacco, and toasted oak on the nose. A lovely mouth feel lends to tastes of caramelized citrus peel and cedar mingling together along with a smooth and sweet spiced apple character. As we sipped on it talking about what cocktails we could create, we noticed a long finish with subtle and sweet spices.
A few glasses later, the wheels started to turn and the discussion on the best way to use this spirit started to form. Serve it up with a king cube for a rocks pour, and as the cube melts and adds water to the spirit, it will really begin to bring forward some of the more complex tones in this rye. Enjoy the subtle woodsy notes from the aging in bourbon barrels. Be encased in the warm apple spice as you sip and really embrace this off-the-beaten-path expression of a rye whiskey.
As we dove in a little more, we decided that the Woodford Reserve Rye would be best represented in a Churchill's breakfast cocktail. Legend has it that Winston Churchill would wash down his breakfast with a whiskey and a cigar, and this absolute gem of a cocktail is a play on that. We took the Woodford Reserve and combined that with some cinnamon smoke from a charred cinnamon stick, grade-A Vermont maple syrup to add a touch of sweetness, cold brew coffee, and a few dashes of black walnut bitters to balance out the drink. The smoothness of the rye compliments the sweetness of the maple syrup as well as the bitterness of the cold brew coffee. With a little smoke from the charred cinnamon stick, we have what we believe to be a relatively simple, easily drinkable cocktail that would please even the most finicky of drinkers. It is a perfect dessert cocktail or even try it for breakfast a la Winston (we won't judge).
Next up is Lot No. 40 Canadian Rye. It's made from a mash of 90% rye and 10% malted rye and aged for 7-8 years. On the nose it has clear notes of rye from beginning to end. It begins with the taste of stone fruit followed by warm cinnamon and clove, and it finishes with cardamom. It has a lovely mouth feel—full and spicy. Initially, you will taste a hint of brown sugar, which turns into pepper, brine, and a bit of sourness. It has a long finish with tastes of the rye grain, toasted oak, and cinnamon bark.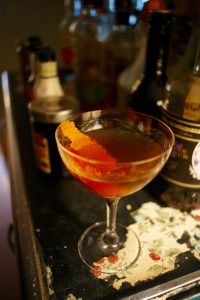 For this delicious Canadian rye, we decided it would pair perfectly with a new cocktail we've been working on called Vanilla Sky. Lot No. 40 is blended with Amaro Montenegro, vanilla bean syrup, and sweet vermouth. Lot No. 40's pepperiness is a perfect compliment to the 40 secret herbs and spices contained in the Amaro. A bit of herbal sweetness is provided by the delicious combination of the vanilla syrup and sweet vermouth. This perfectly crafted cocktail is best sipped on a cool fall night—hopefully by a fire.
Finally we have J.P. Wiser's Canadian Rye from Pernod Ricard. Aged in bourbon barrels for three to five years with a blend of double-distilled corn mash and still rye mash, it leads into some toffee or butterscotch on the nose followed by a smooth feel on the palate with faint caramel and grain tastes. It has a fairly short finish with a hint of rye. J.P. Wiser's is a good introductory rye for a drinker who is just beginning their rye journey as its subtle flavors will lend themselves well to the novice rye drinker.
We decided to go classic with this rye and make a traditional rye Old Fashioned. Many think a traditional Old Fashioned is made with muddled orange and cherries, however, this did not come into vogue until after Prohibition. The traditional rendition goes back to the 1800s. We begin with a demerara sugar cube, a few drops of water, and a couple dashes each of angostura and orange bitters. We muddled these ingredients together, poured it into a mixing glass, and added the J.P. Wiser's rye. We gave it a nice 30-second stir with ice and then strained over a king cube. We like to garnish this with rabbit ears (chard of lemon and orange). The flavors of the J.P. Wiser's blends nicely with bitters and the demerara sugar. The citrus added by the rabbit ears finishes off this beautifully balanced cocktail.
By Phil Gendreau & Jeff Mikolazyk, who own and operate Seed & Sip, a farm-to-glass mobile bartending company based out of Rhode Island. They have operated and created cocktail menus for bars and restaurants in Providence, Boston, and Cape Cod. Seed & Sip is now their focus, and they use locally sourced ingredients from New England farms to create juices, syrups, and infusions for specialty cocktails. While using local breweries, wineries, and distilleries, they try to bring the freshest approach to any type of event. Follow them on Instagram @seedandsip. For inquiries, visit seedandsip.com or email them at [email protected].