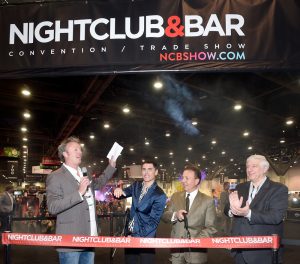 The Nightclub & Bar Convention and Trade Show, known for its unparalleled speaker sessions every year, has unveiled the speakers on the 2018 lineup, complete with some of the world's leading industry professionals. The educational program offers attendees face-to-face access to some of the greatest minds in the country, who will give insight, tips of the trade, and insider knowledge of some of the most innovative and trending topics seen across each industry today.
Sessions include titles such as "Are You Serving the Right Music?" "Menu Design Mind Jedi Mind Tricks: Using Psychology to Increase Sales," "Give Your Sports Enthusiasts What They Really Want and Need on Game Day," and "The Shift from Millennials to Gen Z." This year's speakers who will give personal insight, knowledge and experiences on these topics and many more include:
Beverage Programming
Charlotte Voisey, William Grant & Sons
Harold Johnson, Hooters Casino Hotel Las Vegas
Michael Shetler, Breakthru Beverage
Raymond Kanehailua Jr., Mauna Kea Beach Hotel
Customer Interaction & Experience
Jamie Carawan, Twin Peaks Restaurants
Michael Tipps, Invictus Hospitality
Richard Welcovitz, Walt Disney World
Ricki Kline, Ricki Kline | Design + Build
Tony Abou-Ganim, The Modern Mixology
Will Ramadan, KnowleDJ
Wyatt Magnum, Magnum Music Group
Food Programming
Adam Teeter, VinePair
Chef Brian Duffy, Duffified Experience Group
Donald Burns, CMRC, Off The Range Ventures, LLC
Liability Legalities & Security
David Scott Peters, TheRestaurantExpert.com
Robert Smith, Nightclub Security Consultants
Sarah Longwell, American Beverage Institute
Marketing & Promotions
Allison Wallace, Baja Sharkeez Restaurant Group
Andrew Corbett, The Bull & Barrell
Chris Lewellen, Lew's Grill & Bar
Jason Mitchell, RMD Group
Joseph Bravo, Hard Rock Hotel & Casino Las Vegas
Ram Krishnan, Buzztime
Scott Ward, Tap House Grill
Operations Management & Profitability
Dale Willerton, The Lease Coach
Derek Gamlin, Gamlin Restaurant Group
Donna Hood Crecca, Technomic Inc.
Jason Jelicich, Barmetrix
Kelley Jones, Kelley Jones Hospitality
Lindsay Laubenstein, Heidelberg Spirits Marketing Group
Sean Finter, Barmetrix
Wayne Partello, The San Diego Padres
Tech Talks
Chris Tunstall, A Bar Above
Nikhil Kundra, Partender
Sarah Murphy, IMI Agency
Trends & Movements
Amin Benny, The Bar Host
Daron Garrett, Hakkasan Group
In addition to the wide variety of speaker sessions, convention attendees will have the opportunity to work hands-on with industry leaders to learn the newest trends, tips and skills that will help them succeed with a variety of workshops, including:
Bob Brown, Bob Brown Service Solutions
Bob Peters, The Punch Room
Chris Lenahan, Edge Group USA
David Scott Peters, TheRestaurantExpert.com
Rob Cates, The Ron Cates Companies
Tobin Ellis, BarMagic
For the full list of speakers, more information on each session and a full convention schedule, visit the Nightclub & Bar Show website.