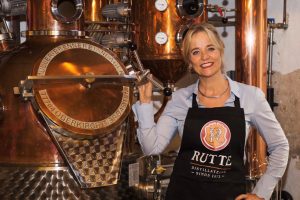 Gin is growing in popularity, with distilleries of every size determined to create varieties that will make the category as exciting now as it was nearly a century ago.
Colby Poulin and Chris Barrett, meanwhile, are among those who believe gin never really went away. The Co-Founders of Oklahoma City-based cocktail consulting/pop-up bartender company A Clockwork Pour see the current boom as simply bigger than the previous boom of a decade ago, with a lot of new products available from both established international distillers and artisanal and small production brands.
"The gin boom of a decade ago was rooted in the cocktail renaissance when there was a demand for cocktails originating in the late 19th and early 20th centuries," says Barrett. "After that boom, customers went on to explore other spirits that this renaissance had brought back. Those spirits had a moment during the timeline of that decade, and now we've come back to gin. Today, you have the people who were turned on to gin back then who have since turned their friends and younger customers on to it. The bartenders and spirits company representatives are on the front lines educating customers and providing reasons for them to give gin another shot because of the new ways to drink it."
Talking 'Bout Our Gin-eration
"The recent decade has seen a multitude of different gins arriving from around the world, with many of them breaking away from traditional styles and venturing out into experimental territory," says Neil Everitt, Co-Founder & CEO of Brockmans Gin. "Gin has changed dramatically since the days of traditional juniper-forward profiles to interesting new gins highlighting berry, citrus, and other botanical flavors. This renewed investment in the category combined with the growing cocktail culture and gin's newfound versatility has bolstered interest and consumption."
And has it ever, with a proliferation of different expressions, from mild to intensely herbaceous and from white to brown with golden hues in between. Gin can be a base for a refreshing poolside drink or a deep, lingering tipple on a December night. Gin-focused bars are popping up in major cities throughout the world, while "G&T" menus are cropping up in a variety of different genres of bars and restaurants. Bartenders and management are actively adding numerous expressions of gin to keep up with the diverse and expanding tastes of their customers.
"The current gin boom is here to stay because the number of distilleries producing the spirit continues to increase," says Craig Welsh, Head Bartender at Miami's Boulud Sud.
"In the last five years alone, the number of distilleries almost tripled in England, which is the origin and main source of the powerhouse spirit. I believe that the number of classic and new-age cocktails being produced worldwide nowadays are more than enough to keep that 'it' factor at present and for years to come."
Some argue that gin is a spirits category that can be all things to all people, as vodka was a decade ago. But experts and distillers believe that is a bit of an oversimplification, as gin evolves and changes with every reemergence.
"The previous influx of new gins on the market was spurred on by bartenders looking for gins that would create the best versions of craft cocktails," says Steven Yamada, a Wine & Spirit Education Trust (WSET) Certified Spirits Educator. "Gin in this way was seen more as an ingredient rather than a standalone product. I think we're seeing the opposite of that now with gin being appreciated on its own or in simpler presentations like the Spanish-style gin and tonic."
Old Spirit, New Tricks
Yamada describes gin as a "versatile and evergreen product that can be distilled classic or modern depending on the whims of the distiller."
Gin's year-round versatility empowers bartenders to maximize the impact of a specific cocktail recipe or for it be sipped on its own.
Poulin observes producers are experimenting with different botanical combinations in the hopes that the resulting new expressions will change some consumers' minds about gin and make them forget about their bad early experiences.
"Some of the new, floral, and light botanical-based gins are bringing back both vodka drinkers and those who did not think they liked gin a decade ago because they have less of a pine-y, juniper-forward flavor of the old-school London Dry gins," says Poulin. "Gin has so many flavors built into them. While most gins have the common thread of the juniper berry at the center, distillers everywhere are seeing how far they can take the basic gin idea."
Everitt says gin offerings today are very different from 20 years ago, "As the category evolves, there is a growing interest in New World styles as well as local niche brands and recreations of older styles, all of which are helping to invigorate the category and dispel the perception that all gins are alike."
Others, meanwhile, see room for further expansion. "I would like to see more aged gins on the market," says Yamada. "Traditional barrel aged and barrel finishing are being implemented on a few gins and having a great effect. Though not a direct substitution, gin can bring a freshness to cocktails that people have enjoyed for a long time. A gin-based old fashioned could be a great 'gateway' cocktail for guests to be able to see how versatile gin can be."
Myriam Hendrickx, Master Distiller for Netherlands-based Rutte Distillery, argues that no matter how modern a gin may be, it is the old techniques used in distilling gin and the premiumization of gins that are capturing the imagination of bartenders and customers. "A lot of the premium gins today are made by distilling botanicals in the pot still, like in the old days," she says. "A key element of our success is that we are a genuine craft brand with proven history going back to 1750 when the Rutte family started distilling. We do see a shift in taste development, a switch from sweet to bitter, with the more mainstream consumer and thus reaching the masses."
As keeping up with changing tastes is important, Rutte has rolled out its new expression of Sloe Gin, as well as a Celery Gin, with hopes that the varied and more intense flavor profiles will generate an interest in its genever portfolio.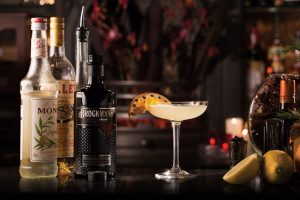 Sandie van Doorne, Executive Director Corporate Strategy at Rutte, stresses the importance of bar managers making a clear distinction between gin and genever. Genever is, in effect, the chicken that came first and begat the egg known as gin in Great Britain.
"What we're trying to do at this point is to re-establish Rutte genever to the market to demonstrate how genever is a proper category with its own characteristics," she says. "It does provide a nice bridge between gins and whiskey spirits, and a lot of customers will then be excited to discover there are many Dutch genevers that will expand their horizons once they discover genever on its own."

According to Van Doorne, there are several ways to introduce customers to genever. Bartenders can use a flight-style tasting with examples of both categories of spirits served neat, or highlight the spirit in certain recipes.
"Tonic just doesn't go very well with the composition of genever, but genever goes fantastically well with ginger beer," says Van Doorne. "To further dispel misconceptions about the two being the same, genever can be used in some recipes that are inspired by brown spirits cocktails such as the Manhattan or old fashioned, or those that require citrus elements such as negroni or daisy cocktails."
Ginning Up Excitement
"I think we are seeing gins that are more focused on single botanicals than gins from the past," says Yamada. "Mainly I think this is because the producers of individual products are passionate about certain botanicals that they want to highlight in their gins."
Jesus Ramirez Galan, Brand Ambassador for Spain's Gin Mare (recently introduced in the U.S.), points out the trend of distillers making gin that will be approachable for younger markets, as opposed to the stronger, British style older generations enjoy. "There are now a lot of expressions, such as our Mediterranean-style gin that uses the same botanicals in Mediterranean cuisine," he says.
Welsh observes the current 'G&T' rage has begat several flavored gins, as distillers are working to appeal to the taste of young consumers who were introduced to cocktails via vodka.
Ramirez Galan and Welsh both add that the appeal of G&T's is further enhanced by higher quality bottled tonics and the many craft cocktail bars that are fashioning quinine syrups in-house. This, along with the emphasis of herbs grown in-house or sourced from local organic farmers, allows bars to create distinctive signature versions of the original classic cocktail.
"Also, the Spanish style of presenting gin & tonics with botanicals and in a large glass makes such a great impact on customers," says Yamada. "It's both a great visual and tasty experience."
"Gin is the perfect partner for the continued growth of the cocktail movement," says Eral Gokgol-Kline, Co-Founder of Tod & Vixen's Dry Gin 1651 from the Vale Fox Distillery. "It has character and flavors bartenders can really be creative with.
"It is an exciting time to be releasing anew gin when there is so much of a demand among customers."
By Elyse Glickman
Photos (top to bottom):