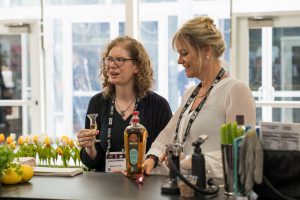 Adding Paradyswyn to its U.S.-repertoire, the house of Rutte once again paves the way for innovative craftsmanship in the Genever category. Under the guidance of eighth-generation master distiller Myriam Hendrickx, Rutte is introducing this premium genever based on a historical recipe with a contemporary makeover.
A gentle whiff of floral, scented delights – almost like a delicate perfume – zesty grapefruit tones and orange flower pass by, lusciously underlined by a hint of caramel, brioche dough, and crisp spiciness. The bottle of Paradyswyn on the table and a pair of glasses right next to it seem to graciously disperse the heavenly aromas, filling the air of the old wooden living room. Just as the genever and its scent, the atmosphere evokes memories of days gone by, when Simon Rutte attentively arranged the spices in the basement which were waiting to be distilled into his precious spirits.
In 1872, Dordrecht near Rotterdam was a lively town and most certainly an epicentre of international goods and trade. Tingling spices, exotic fruits and other fresh products from around the globe found their way to the otherwise sleepy streets of Holland.
Genever was already a main staple at that time and Simon Rutte's was treasured as the finest of them all. And it still is today with Myriam Hendrickx, the eighth-generation master distiller, continuing the legacy respectfully and most attentively. Building on rich heritage and century-old recollection, Rutte constantly rediscovers its own path, combing through old books filled with recipes and the traditional craftsmanship of its founders. Yet there's an ever-evolving curiosity and ambition to not only stay true to the past, but also confidently look ahead and shape the future.
Fully aware of the past, Rutte defines the future by developing new products and crafting unique experiences for the 21st century and the modern connoisseur. At the very heart is Rutte's expertise as botanical distillers, perfectly assembling different herbs, roots, spices and fruits into exceptional liquids
Long before "craft" became a thing, Rutte was always just that. Small batch, artisanal production, 100% hands-on. Despite operating the smallest distillery in Holland, Myriam Hendrickx has become a leading figure and spokesperson for Dutch genever on a global level, raising this historical category to new heights of international awareness. Hence Rutte today is a frontrunner in distilling genever, the ancestor of gin, as well as the modern interpretation of the juniper delight itself.
Offering a totally different perspective on traditional genever, Rutte Paradyswyn shows the tremendous skill and botanical expertise of Myriam Hendrickx, refining a historic recipe of John Rutte's and making it relevant and available to today's epicures. Once again, the innovative interpretation of the distinct Dutch spirit most elegantly combines longstanding tradition with a modern twist, bridging the old and new, introducing a thus unknown treasure of liquid indulgence.
Paradyswyn is based on 100% malt genever that has been gently matured in American oak barrels for 4 to 8 years, in the charming surroundings and moderate climate of Dordrecht. Further elevated by blending in unusual fruit distillates and macerates containing cherry, apple and blackcurrant, the characteristics of traditional genever are taken to a whole new level, resulting in a unique and very complex product.
Layer after layer, the nuances of Paradyswyn's aroma tickle the nose – there's a hint of woody, almost earthy spiciness with luscious, mellow tones of slow maturation and malted grain. Underneath a sensation of dark, ripe berries, along with morello and maraschino cherries, offers
a fruit-laden twist. A soft, oily impression is left on the tongue, sipping Paradyswyn neat whilst contemplating the hectic everyday grind outside. With every mouthful, the subtleties of complexity take on different hues, ultimately culminating in the embracing charm of malt and dark salted caramel.
Paradyswyn closes a gap between classical botanical spirits, crisp fresh distillates highlighted by juniper and coriander, a traditional genever signature and a mature dark sipping spirit.
Rutte Paradyswyn – Tasting Notes
Crisp, very fresh with citrusy hints at the beginning, bright and aromatically shining, malt close to rye bread, a little sourdough, poppy seeds and cumin. Yeasty impressions with a delightful touch of dark roasted barley and malt vinegar, dried and stewed cherry alongside roasted almonds, candied pecans and a whiff of coriander seeds. Very aromatic, intriguingly complex.
The palate is very soft and elegantly smooth, with slight woody reminiscences proudly sitting next to the fresh acidity and citric note already found on the nose. There's a colourful array of spices in the back, pink peppercorn, muscovado sugar and an elegant astringency to balance everything off. The slightest hint of bitterness skilfully plays with brightness, fruit-driven mellowness and a touch of sweetness. This potpourri keeps lingering with angelica, cardamom and green berries, as well as maraschino cherry, liquorice and toasted brioche. A very long, bright, sparkling and fresh yet spicy finish.
Try the new genever in these cocktail recipes:
Paradyswyn – Signature Serves
Served neat in a tulip-shaped nosing glass, alternatively pour Paradyswyn over a large crystal-clear ice block in a rocks / tumbler glass. Garnish with orange zest and a marinated morello cherry.
Paradyswyn Old Fashioned
70 ml Rutte Paradyswyn
10 ml sugar syrup or Cherry Heering
2 dashes Angostura bitters
Gently stir all ingredients with ice cubes, then strain into a tumbler and garnish with cherries or berries