Basil Hayden challenges the notion that smoky spirits are harsh with its newest ultra-premium bourbon and limited time offering, Basil Hayden® Subtle Smoke. Artfully complex, yet uniquely approachable, Basil Hayden Subtle Smoke is an entirely new take on smoky spirits that will capture the attention of the whiskey connoisseurs and those new to the category.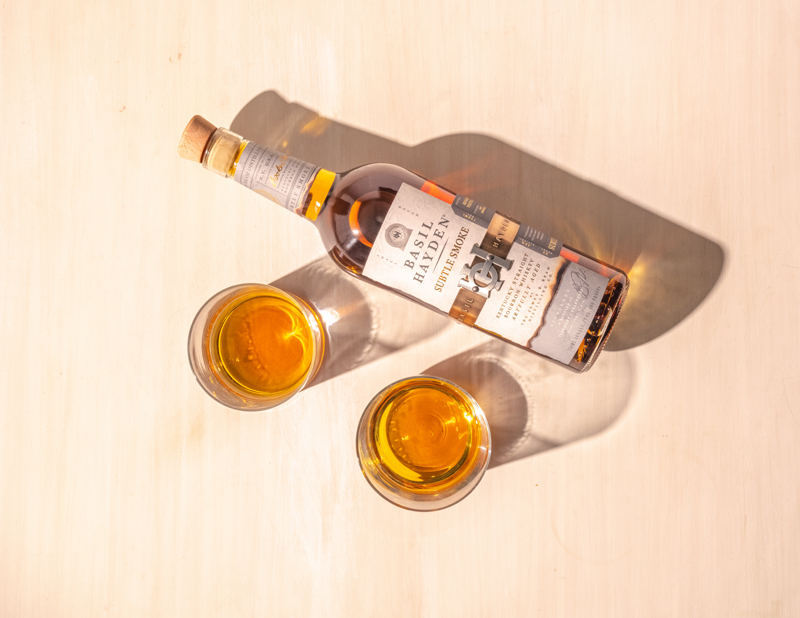 Basil Hayden Subtle Smoke is crafted differently from most other smoky spirits. The steps to create this unique bourbon begin with toasting and lightly charring a secondary barrel. Afterwards, hickory-smoked chips are delicately ignited at a constant feed to produce smoke, which is then pumped into the barrel, resulting in soft, charred notes. This six-month secondary aging process provides a smoother, more subtle take on smoky spirits, and creates the perfectly sophisticated, yet approachable introduction to both bourbon and Basil Hayden.
"We continue to honor my grandfather Booker Noe's legacy of pushing the boundaries of what bourbon can be with the debut of Basil Hayden Subtle Smoke," said eighth generation Beam family distiller Freddie Noe. "A showcase of the many ways in which our bourbon can be layered, refined and complex, yet approachable and inviting, Basil Hayden Subtle Smoke is reimagining how smoky spirits can taste."
On the nose, aromas of mellow smoke character with a hint of vanilla preface flavors of soft char with light sweetness reminiscent of butterscotch and maple on the palette. Concluding with a crisp, yet delicate finish of smokiness with light toasted hickory wood, the new expression offers a subtle, welcoming introduction to a smoky spirit while paying homage to the bourbon's signature high-rye style.
"Basil Hayden Subtle Smoke is proof that bourbon can be complex and smoky, but doesn't need to be harsh," said Jonathan Marks, Senior Brand Director for Global Small Batch Bourbon at Beam Suntory. "We look forward to bringing new members into the Basil Hayden family with this bourbon that provides a subtle invitation to smoky spirits in a way that only Basil Hayden can."
Basil Hayden Subtle Smoke is available now. Ideally served neat or on the rocks, Basil Hayden Subtle Smoke encourages those new and familiar with the category to discover all that bourbon can be through the subtle, unexpected infusion of smoke.