ITALICUS Rosolio di Bergamotto – the world's most awarded Italian Aperitivo – has crowned Nathalie Wenko of Die Parfümerie Bar in Austria as the winner of its Art of ITALICUS Aperitivo Challenge winning the title of 2022 Global ITALICUS Bar Artist. The competition was held during the Roma Bar Show at the W Hotel Roma on Sunday, May 29th where twelve bartenders from around the world convened to create their one-of-a-kind ITALICUS Aperitivo cocktail creations.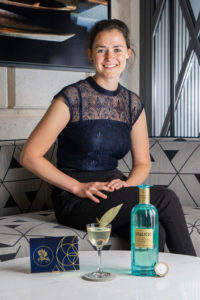 Nathalie Wenko's champion cocktail, Inferno, highlights ITALICUS' floral and citrus tasting notes with bay leaf infused gin, dry vermouth, house made cilantro essence, and Dante extra virgin olive oil. In addition to winning first place, Nathalie has won a mentorship program hosted by Marc Alvarez at his cocktail bar, SIPS in Barcelona – ranked number 37 by the World's 50 Best Bars in 2022.
In second place is Niccolo Rossi of Barrier Bergamo in Italy with his cocktail creation, Eclisse. It features ITALICUS alongside green apple and basil extract, lemon clarification, and Spuma Bianca.
Third place goes to The Smile as Aperitivo, from Adrian Michalcik of Pier 42 in Norway. It combines ITALICUS with sherry, gin, house made peach, caper and lemongrass cordial, and Absinthe.
As an added bonus, ITALICUS awarded the Michi cocktail – from Josephine Sondlo of Nori Bar in Sweden – as the competition's most sustainable creation. It features ITALICUS together with seaweed-infused gentian liquor, condensed cream soda, twig and leaf oil, and re-purposed sorbet.
Judging the competition were four industry experts including ITALICUS founder, Giuseppe Gallo, Difford's Guide co-founder, Paloma Alos, SIPS' co-owner, Mark Alvarez, and Elle Italia Deputy Director, Barbara Digiglio. The competition took place throughout the day and
was followed by the official opening party of this year's Roma Bar Show.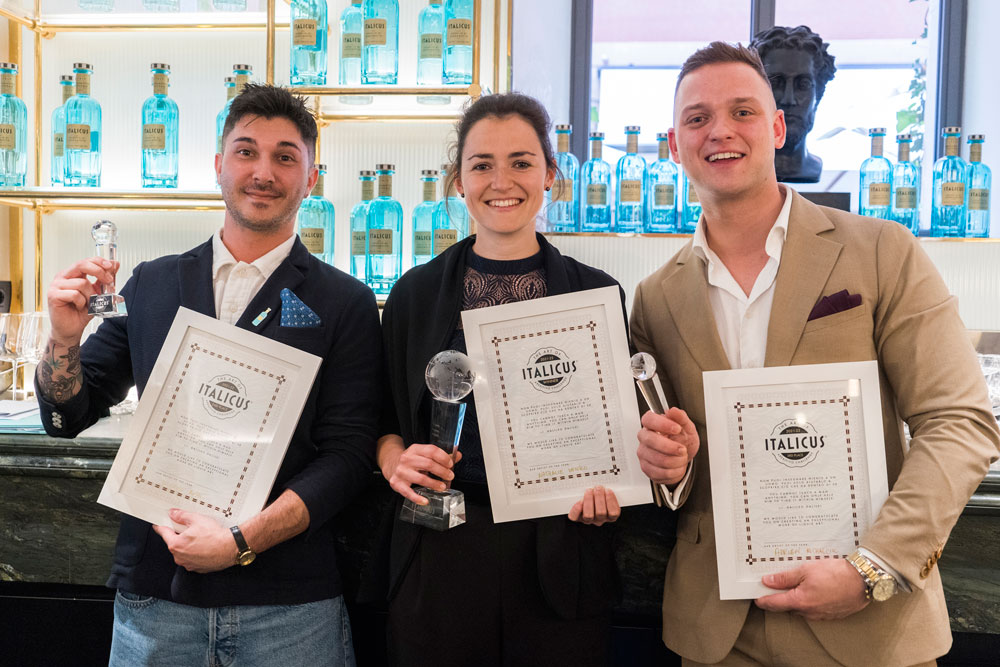 "This year's finalists have demonstrated a superb level of artistry and creativity and have brought ITALICUS' core values to life through their cocktail creations," says Giuseppe Gallo, founder, and CEO of ITALICUS. "Bartenders are artists that craft art in liquid
form, each winning cocktail creation is a true piece of art that brings originality to life through our art of mixing drinks. It has been an honor to work with these creative minds and witness their fearlessness and skill through the lens of ITALICUS."
The twelve global finalists, and their exclusive ITALICUS cocktails include:
INFERNO
Created by Nathalie Wenko, Die Parfümerie, Austria
ITALICUS, bay leaf infused gin, dry vermouth, house made cilantro essence, Dante extra virgin olive oil
CHIARA
Created by Tarek Abdallah, TATA Cocktail Bar, Denmark
ITALICUS, gin infused with basil and diluted tomato water, Manzanilla sherry, gooseberry vinegar, gooseberry and basil leaf
TALES OF GOLD
Created by Quentin Monnier, GINA, France
ITALICUS, Shrub d'ananas maison, Oleosacarum d'orange maison, champagne, Cedrata
IMMORTALITÀ
Created by Jan Sporleder of BAR SEIBERT, Germany
ITALICUS, verjus, blueberry shrub, apple and fennel soda, basil oil, apple spiral
ALTERED STATE
Created by Alexandre SpyridonAngelis, Matsuhisa Athens, Greece
ITALICUS, mezcal, red apple, maple and Lapsang Souchong cordial, fresh citrus juice mix (lime, pink grapefruit, orange), soda water, pandan tuile, orange and ginger marmalade, fresh coconut pieces, fresh pomegranate seeds
ECLISSE
Created by Niccolo Rossi, Barrier, Italy
ITALICUS, green apple and basil extract, lemon clarification, Spuma Bianca
SMILE AS APERITIVO
Created by Adrian Michalcik, Pier 42, Norway
ITALICUS, sherry, gin, house made peach, caper and lemongrass cordial, Absinthe
GIAMBEL
Created by Agustín Gómez, Bad Company 1920, Spain
ITALICUS, The Bitter Truth Olive bitters, sparkling white zinfandel, fino sherry infused limonero leaf and azafrán, limonero leaf
MICHI
Created by Josephine Sondlo, Nori Bar, Sweden
ITALICUS, seaweed-infused gentian liquor, condensed cream soda, twig and leaf oil, re-purposed sorbet
THE ENSEMBLE
Created by Marco Colelli, Tales Bar, Switzerland
ITALICUS, French dry Vermouth, gentian liquor, Gin, olive bitter chocolate brine
CRESCENDO
Created by Juan Jose Orellano, American Bar at The Savoy Hotel, United Kingdom
ITALICUS, Savoia Americano, aquavit, grapefruit, pink peppercorn soda
ETERNITY
Created by Korab Loga, Bella'Gio Ristorante, United States
ITALICUS, acqua di posca, trebbiano, Succo di Bergamotto, atomized elderflower water