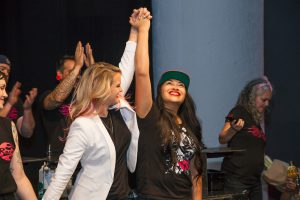 Over its past nine seasons, Speed Rack has been able to raise over $1 million dollars for breast cancer research and spotlight over 2,000 womxn in the bartending community across eight countries. In the lead up to its 10 year anniversary, the global non-profit is pleased to announce its forthcoming mentorship initiative, Speed Rack Advisory Squad.
Speed Rack Advisory Squad is a global mentorship program for womxn, by womxn, designed to equip the next generation of bartending and spirits professionals with the tools they need to meet and exceed personal career goals while shattering glass ceilings in their
wake. Launching in January 2021, Speed Rack Advisory Squad will run in six-month increments, fostering meaningful one-on-one relationships between womxn and the leading industry experts that will serve as their mentors. Priority will be given to placing BIPOC
mentees in the program in an effort to fight the barrier that race has played in career advancement in the beverage industry.
In 2019, Speed Rack Co-Founders Lynnette Marrero and Ivy Mix accepted Tales of the Cocktail's Spirited Award® for "Best Bar Mentor" — the same year that Speed Rack won the first ever global Spirited Award for "Philanthropy." When the pandemic resulted in widespread shut-downs in early 2020, Speed Rack Season 9 was halted in its tracks and Marrero and Mix needed to reassess what the organization could do to best support its community at this time. Mentorship was the clear answer given the unrivaled talent pool of Speed Rack alumni and community leaders, coupled with the apparent wage and opportunity gaps prevalent in the industry.
"The landscape of our industry is in a huge stage of flux right now. Now more than ever, we are in need of a sounding board for career choices within the hospitality industry. I am thrilled to build upon the sorority (for lack of a better word) that exists within the womxn of the Speed Rack community and bring mentorship when people need it most," said Ivy Mix, Co-Founder of Speed Rack, Co-Owner of Leyenda, and author of Spirits of Latin America.
Mentee applications are live now. Anyone interested who identifies as womxn and aligns with Speed Rack's mission and values is encouraged to apply.
"I am excited for this mentorship program and the commitment from our colleagues. Over the last couple of years, Speed Rack has been working to build authentic and lasting solidarity amongst womxn in the industry, with an intention of supporting the BIPOC community and creating a more intersectional feminist coalition within. Our goal is to build just relationships and invest in one another's liberation," said Lynnette Marrero, Co-Founder of Speed Rack and Bar Director of LLama Inn and LLama San.
The first cohort of mentors includes the following womxn who have generously agreed to donate their time and talent to the Speed Rack Advisory Squad, listed alphabetically below. More will be added in the weeks to come.
A-K Hada
Abigail Gullo
Alexis Tinoco
Alice Farquhar
Allison Dedianko
Amanda Gunderson
Ann Marshall
Annie Shi
Anne-Louise Marquis
Anu Apte
Briana Volk
Caroline Rosen
Cha McCoy
Charlotte Voisey
Chelsea F. Gregoire
Christina Veira
Claire Warner
Emma Janzen
Gabriela Davogustto
Hannah Sharman-Cox
Jemima McDonald
Jenny Feldt
Jessamine McLellan
Jillian B Vose
Jordan C Salcito
Julia Momose
Julie Reiner
Kellie Thorn
LaTonya Davis
Lauren Mote
Leah Doyle
Lisa Thuy Nguyen
Lynn M. House
Marie Christoffersen
Meaghan Dorman
Mia Van de Water
Misty Kalkofen
ms. franky marshall
Natalia Smythe
Natalie Migliarini
Nandini Khaund
Natasha David
Pamela Wiznitzer
Robin Nance
Stephanie Haile
Talia Baiocchi
Tess Mix
Tess Posthumus
Thandi Walton
Victoria James
Vivian Pei
Yael Vengroff
Zahara Bates