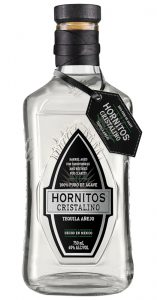 Hornitos® Tequila officially announced the launch of new Hornitos® Cristalino on the heels of its latest marketing campaign, "A Shot Worth Taking," which debuted on Mexican Independence Day. Hornitos Cristalino is a 100 percent blue agave tequila that is aged and filtered to produce an exceptionally smooth and crystal clear añejo – the first of its kind to be made available in the premium category.
Hornitos Cristalino starts as a triple-distilled añejo tequila, aged at least 12 months in traditional American white oak casks, before undergoing a unique process that filters and gently stirs the spirit to uncover the herbal, fresh, agave forward notes typical of a Plata tequila. This process maintains the complex character and sweetness derived from barrel-aging and thus achieves a more balanced and rounded profile. The final product produces honey and floral notes, with distinct vanilla and butterscotch flavors wrapped in toasted wood.
"Hornitos Cristalino is a versatile spirit with a complexity of flavor that appeals to tequila connoisseurs and smoothness that makes it highly approachable for those looking for an introduction to the tequila," said Malini Patel, vice president of tequilas at Beam Suntory. "These unique qualities make Hornitos Cristalino ideal for everyday sipping, as well as for celebrating special occasions."
Hornitos Cristalino is 80 proof and available for a suggested retail price of $29.99 for a 750mL bottle. The versatile tequila is best sipped on the rocks or neat or mixed in a cocktail with club soda and fresh grapefruit.
Hornitos continues to challenge the status quo and set new standards for how tequila is produced throughout its nearly 70-year history. This revolutionary approach is reflected within the brand's newest premium tequila offering, its "A Shot Worth Taking" campaign, as well as recent innovations such as Hornitos® Black Barrel® Tequila, the first tequila to be aged like a whiskey.