Chemo Comfort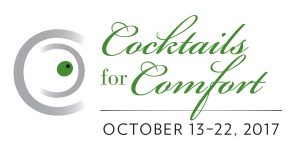 , an all-volunteer run organization founded by two-time breast cancer survivor Anne Marie Paolucci in 2003, provides cancer patients with kits of products to help manage chemotherapy's side effects.
Chemo Comfort is holding its fifth annual Cocktails for Comfort fundraising campaign October 13-22, 2017. Sixteen establishments across New York City and Westchester will be participating by creating signature cocktails for their patrons with proceeds donated to Chemo Comfort to support their programs.
Throughout the Cocktails for Comfort event period, Chemo Comfort will host a Selfie Bar Crawl contest. Take a selfie at participating venues holding the Cocktail for Comfort and something to identify the bar, and then post the photo on Instagram or Twitter with the hashtags #C4CSelfie2017 & #Cocktails4Comfort. The winner, chosen at random, will win a $100 Amazon gift card. Detailed contest information and Bar Crawl maps can be found on Chemo Comfort's website.