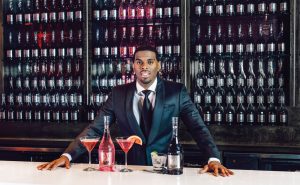 In creating FLŌH Spirits, LLC, CEO & Founder Jacques Evans also coined the term "floh," which means "the plan or desire to go towards a good time."
With a background in entertainment and promotions, Evans is no stranger to
a good time. He spent years promoting various liquor brands but wasn't impressed with the vodkas he came across.
"It made me want to create something that I felt fit the true upscale profile," he says. "Something that was truly upscale from beginning to end, and not because of who was pushing it, but because of what it's made from and how it tastes."
The Founding of FLŌH
Evans set out to develop what would become FLŌH Vodka, which required plenty of research and a lot of learning. "Being a party promoter and working with brands is totally different than actually being on this side of it. So I had to learn," says Evans, who studied everything from liquor laws to distribution to package design. "Some people take swim lessons and then start swimming. I had to learn to swim as I was drowning."
After about two years of development, Evans launched FLŌH in his home state of Ohio in 2014. This was a challenge in and of itself since Ohio runs a state-controlled liquor business. But it was important for Evans to start at home before "taking over the world," as he explained to the superintendent of the Division of Liquor Control, who eventually agreed to carry his vodka based on Evans' dedication to his new spirit as well as FLŌH's eye-catching and carefully designed packaging.
FLŌH is now available in a growing list of states, including California, Florida, New York, New Jersey, Nevada, Texas, and Wisconsin.
Affluent Affiliations
Where Evans' background in promotion has helped is with FLŌH's partnerships. "When I first launched FLŌH, I was looking at different ways to get the brand out there," he says. "There are a lot of vodkas that come out every year, so I had to figure out a way to separate myself from all the new products."
FLŌH was the Official Vodka for the ESPN Rose Bowl Tent, and the spirit has also partnered with Dimmitt Automotive Group—known for their world-class luxury and performance vehicles including McLaren, Aston Martin, Bentley, and Rolls Royce—for various events including Cars and Carats.
In addition, FLŌH opened the FLŌH Lounge in the BMO Harris Bradley Center, home to the Milwaukee Bucks. The full-service cocktail lounge offers FLŌH Vodka signature drinks and includes a full-bar, additional seating, and multiple flat-screen TVs. Evans agreed to the partnership with the Milwaukee Bucks because the team is a growing, young team just as FLŌH is a burgeoning, new brand.
Crafted with Care
FLŌH's distillation process is one of the things that sets it apart from other vodkas. Using only premium ingredients grown, harvested, and produced in the US, including the best American corn and Oregon water, FLŌH is distilled 10 times using a unique filtering process. The distillation takes place in small batches in Bend, Oregon.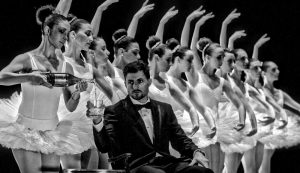 The vodka is also gluten-free, allergen-free, and Kosher Seal Certified. Evans had the foresight to make the spirit gluten-free after speaking with his food scientist, who saw the upcoming trend way back in 2011. It now means even more to him since his son was diagnosed with a gluten allergy.
The vodka is currently available in original or in pink grapefruit dragon fruit. "I wanted to create a taste that was unique, and when I was doing research, I was seeing a lot of fresh fruit and natural ingredients," says Evans. "Dragon fruit is sweet, grapefruit's bitter, so we tell people the pink grapefruit and dragon fruit is the perfect balance between bitter and sweet." (Note: This flavor is not allergen-free.)
FLŌH plans to release other flavors in the future such as honey ginger lime, peach pomegranate, and even coffee. "A lot of the flavor profiles that we do are combinations," says Evans. "We have 13 different flavor profiles that could potentially come out in the future."
But for now, Evans is satisfied with his two current offerings. "I believe there's such a thing as too many flavors for a brand, especially a new brand," he says.
By using premium ingredients and unique flavors, Evans has elevated
his vodka to a premium, sipping spirit rather than a "drunken vodka" that people look to hide the taste of by mixing it with other ingredients. His attention to detail and taste has quickly earned the spirit the title "The Caviar of Vodka." "I created FLŌH for people who like to enjoy vodka and want a high-end, but affordable, choice," says Evans. "The flavor is so good that a lot of people drink it straight."
When creating FLŌH, Evans also had his eye on the craft cocktail market and the way it has elevated drinks to an art form. "The craft cocktail industry is huge," he says. "When we designed FLŌH, I particularly wanted to be a part of that market."
Design Details
What's inside the bottle is only rivaled by what's on the outside. "Bottle design is very, very important," says Evans. "You only get one chance to make that first impression."
The first impression Evans aims to make with his handcrafted, self-designed bottles is one of intrigue. "I wanted to create a conversation piece," he says. "I wanted you to see the bottle and not know what it was from a distance so you had to ask the bartender, 'What is that?'"
The original vodka comes in a glass bottle with a smoky exterior and a black cap. "When I designed it and sketched it out, I wanted it to look like a tuxedo," explains Evans. "So the bottom is tinted, the black top is like a top hat, the label around the neck is like a bow tie, and the label at the bottom is embossed with a pewter finish."
For the pink grapefruit and dragon fruit bottle, Evans' inspiration was a woman in a pink party dress.
Both bottles feature handcrafted pewter labels. "I went with the pewter label because I knew it was sexy," says Evans. "We could have went cheaper with the packaging, but it wasn't what I wanted; it wasn't what I felt the people would want."
And Evans was on to something as many FLŌH drinkers keep the bottles and display them. With this and the greater awareness of green practices in mind, Evans hopes to soon implement a recycling program that would allow him to collect the bottles back, clean and sanitize them, and then refill them. "If we could go green, I feel like it would be huge," he says.
One thing is for certain—FLŌH will continue to innovate. "I don't feel I have to drink the same stuff my parents drank," says Evans. "We have to start something new."
By Ashley Bray
Photos (top to bottom): Benjamin Meyer, Jacques Evans.