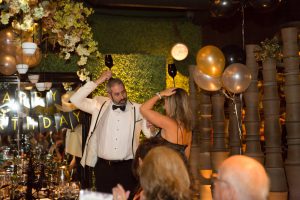 Ben Silver is the only person in the world who can lay claim to the dual titles of magician and certified sommelier. He's spent 18 years in the hospitality industry working in a number of roles at resorts and high-end restaurants and is now a Level 2 Certified Sommelier. He's practiced magic since he was a kid, but he decided to take it from hobby to career when he saw a magician perform close-up magic at one of his own art shows.
He couples his knowledge of wine with his talents in magic and travels across the country for performances of close-up magic, wine and magic dinners, and interactive magic and wine-themed stage shows. He's even performed at unique events like the 25-year NBC Universal anniversary party. Silver currently serves as the Wine Director and Sommelier at Meze Greek Restaurant in downtown San Diego.
1. What led to your interest in wine?
When I had the chance to taste a really exceptional bottle of wine, it got me excited. I was working with a sommelier at the time in Sedona, Arizona, and the bottle of wine I tasted was the Cain Five 2007. Initially, I wanted to just get my Sommelier 1, which is the first level sommelier, for job security to get better restaurant jobs. After I got the one, I was really intrigued with wine. I moved to Santa Barbara to study wine, and I met Fred Dame, who's the President of the Court of Master Sommeliers. I performed for him, and he ended up sponsoring me for the Level 2. He recommended a sommelier for me to study under—Brian McClintic. He was in the documentary SOMM, and he had a wine shop in Santa Barbara that was close to where I lived at the time. So I would go and perform a little bit over there, and he would give me some wines to taste.
2. Why do you perform close-up magic versus other types?
I was never really fascinated by stage magic because it's far away, and it's a lot of the same type of stuff—sawing someone in half or linking rings. But to see close-up magic inches from your face and not have an idea of how they're doing it was very fascinating. It inspired me enough to pick up some books and start really learning how to do it. I'm always practicing, always studying, evolving, and working with other magicians to try and enhance the art of magic. It's something I'm still pursuing all the time.
3. What's your favorite magic trick?
Being a sommelier, I always wanted to have somebody literally just think of a bottle of wine and then be able to produce that bottle of wine, and now I can do that. I try to find someone in the audience who has a birthday that day, and I bring them up onstage and have them sign a playing card as their birthday card. We take that card, rubber band it, and put it underneath a wine glass. Later on, after I produce that bottle of wine that someone merely thought of, I take the playing card from under that glass and throw it inside the sealed wine bottle.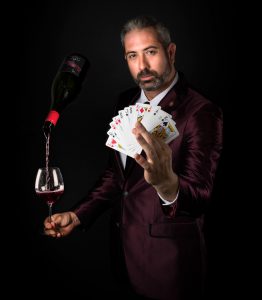 4. What made you decide to combine magic and wine?
They work really well because I'm combining entertainment with a luxury service. Wine, especially good wine, is something that's enjoyed by people who know how to enjoy life. So when you can combine those, you have the chance to provide a luxury service at another level—especially when you have the chance to surprise guests. I'll start by doing a wine tasting and being a sommelier, and then I start doing magic, and they really do a double take and ask, "how did you do that?" For me, it's taking my two passions and then combining them into a great entertainment service.
5. Do you have any advice for those who want to become sommeliers or entertainers in this industry?
Mentors and books are what you want for both. If you're going to be a magician or a sommelier, find someone who's doing it very well, who's warm, and befriend them and study under them. Then start picking up and reading books while at the same time practicing as much as possible. With wine, before my Level 2 test, I was tasting five days a week. I would go into bars and have them blind taste me with wines. With magic, I'm fortunate that I've been working at restaurants so I have a chance to practice new magic while I'm working as a sommelier. You need that real world experience—you can only practice in front of your mirror doing magic for so long. You have to get out there and do it, and start learning the patterns, and start making it your own.
By Ashley Bray
Photos (top to bottom): Jesse Sutton, Gary Payne.