BACARDÍ Rum Sips Into Spring with New Real Rum Canned Cocktail Flavors
World's most awarded rum brand welcomes the change of the season with colorful additions to its ready to drink range, including new BACARDĺ Piña Colada and Mojito variety pack flavors.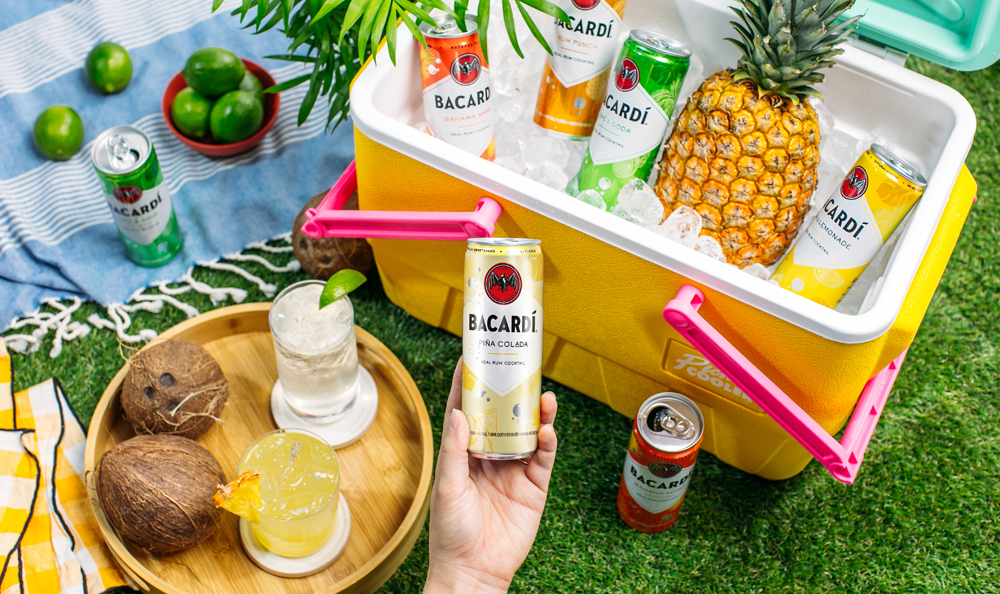 To mark the start of the warm-weather season, BACARDÍ is excited to launch a series of new additions to its popular BACARDÍ Real Rum Canned Cocktail range. Joining an already robust lineup of full-flavored Real Rum Canned Cocktail offerings – including longtime summer favorites, Sunset Punch and Rum Punch – BACARDÍ is introducing a Piña Colada variant and a Mojito Variety Pack with new Mango Mojito and Strawberry Mojito flavors. Additionally, the existing BACARDÍ Real Rum Canned Cocktail Variety Pack will be revamped to include the Bahama Mama, Piña Colada, and Rum Punch variants, while the Sunset Punch flavor will now be available as a standalone four-pack.
As many people know, no one puts more Caribbean in a can than BACARDÍ, and since launching its Real Rum Canned Cocktail range in 2020, the brand has become a top-seller amongst competitors, touting consistently high rankings in an ever-growing spirit-based canned cocktail category. Idyllic for hitting the beach, lounging in the park, or toting along on a hike, BACARDÍ Real Rum Canned Cocktails are made with natural flavors, real ingredients, and no artificial sweeteners. These convenient, gluten-free, and perfectly mixed ready-to-drink cocktails are expertly crafted with an award-winning base spirit of BACARDÍ Superior, as opposed to a malt base like many other canned beverage options on the market, delivering nothing short of a well-balanced cocktail made for on-the-go enjoyment this spring, summer, and beyond.
The convenience of BACARDÍ Real Rum Canned Cocktails invite people to ditch the shakers, shots, and mixers, and pick up a pack on the move, as it is the perfect companion for on-the-go imbibing and high-energy drinking occasions. Tantalizing and tropical, the new BACARDÍ Real Rum Canned Cocktail range additions hit shelves just in time for warmer weather and outdoor activities spent amongst friends.
The new BACARDÍ Piña Colada and standalone BACARDÍ Sunset Punch variants are available in four packs of sleek 355mL cans with a 5.9% ABV. The new Mojito variety pack, including Mango Mojito and Strawberry Mojito variants, and revamped BACARDÍ Real Rum Canned Cocktail variety pack are available for purchase in select markets in packs of six 355 mL cans, for a suggested retail price of $16.99.