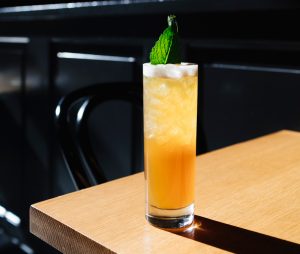 Ingredients:
1 ½ parts Laphroaig® Select Scotch Whisky
1 part Pedro Ximenez Sherry
¾ part fresh lemon juice
¾ part Pineapple Juice
3 dashes Chocolate Chili Bitters
Pinch of black salt or sea salt (for garnish)
Pineapple Leaves (for garnish)
Directions:
Combine all ingredients in a cocktail shaker and shake vigorously with ice for 10 seconds. Strain into a highball glass filled with crushed ice. Garnish with pineapple leaves and pinch of black salt or sea salt.
Created by Gaby Mlynarczk (Los Angeles, CA)