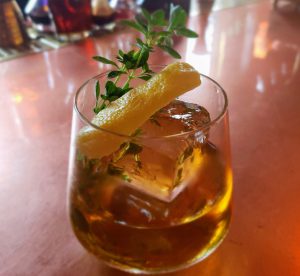 Ingredients:
1.5 oz Uncle Nearest 1856 Premium Whiskey
0.75 oz Amaro Meletti
0.75 parts thyme-infused extra dry vermouth*
Directions:
To make thyme-infused vermouth, steep 10 sprigs of fresh thyme in 0.750 L of extra dry vermouth for 30-40 minutes. Build all ingredients in an Old Fashioned glass. Add ice and stir. Garnish with a lemon twist and fresh thyme.
Created by California Mixologist Nick Griffith