UPshow, a screen-based consumer engagement platform that's changing the way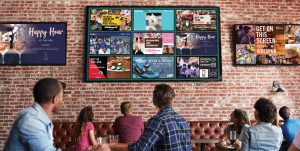 businesses think about in-venue marketing, announces its partnership with Jukin Media, the global digital media company that is the owner and operator of the web's most popular social video properties including People Are Awesome, FailArmy and The Pet Collective. The partnership provides UPshow's network of fitness, hospitality and healthcare businesses with another vehicle to enhance engagement and loyalty, drive sales and improve marketing ROI.
Jukin's social video properties entertain consumers while providing UPshow's business customers such as Crunch Fitness, Buffalo Wild Wings, Sky Zone and ATI Physical Therapy with dynamic and relevant content. By keeping eyes glued to TV screens, consumers are more receptive to businesses' digital signage such as promotions and app downloads that are interspersed among Jukin's programming content.
"UPshow's consumer engagement marketing platform provides businesses with entertaining and promotional content, so partnering with Jukin, one of the world's most watched video content providers, is a natural fit," said Adam Hirsen, CEO and co-founder of UPshow.
The partnership expands UPshow's platform to include Jukin's five most-watched social video properties in the world including:
· FailArmy has a loyal following of more than 45 million fans online with its signature brand of physical comedy that includes collections of hilarious fail videos sent in from FailArmy fans across the globe.
· People Are Awesome showcases ordinary people doing extraordinary things — from incredible athletes to amazing artists – providing viewers with a daily dose of inspiration, impactful original series and jaw-dropping footage of awesomeness in all its forms.
· The Pet Collective curates the top trending pet clips, most entertaining memes and funniest animal videos in the world.
· Poke My Heart includes heartwarming, life-changing, inspiring, and positive viral videos that feature adorable babies, funny kids, marriage proposals, among others.
· Jukin Video showcases the web's funniest user-generated and viral videos, all filmed by fans. It's amazing what people catch on camera every day.
"We're thrilled that our brands' 180+ million social media followers will be able to view their favorite social content in thousands of locations across the country," said Jukin Founder and CEO Jonathan Skogmo.
Powering more than 4,500 locations with 12,000+ active TV screens, UPshow's customers include hospitality, fitness, entertainment and healthcare venues such as Crunch Fitness, UFC Gyms, Cheddar's Scratch Kitchen, Sky Zone, ATI Physical Therapy and many more. UPshow's platform gives venues total control over their TV screens to showcase brand and customer-generated social media content, feature promotions and provide hyperlocal entertainment curated just for the location.
UPshow recently secured $6 million in Series A funding led by TDF Ventures and Jump Capital. Jukin Media's investors include Bertelsmann Digital Media Investments and Samsung Ventures.