Pharrell Williams recently shared his favorite cocktail recipe: Purple Reign. Purple Reign is quickly becoming a bestseller on Swan's menu in Miami, where he is a partner in the restaurant with David Grutman. The photogenic cocktail has Avion Silver tequila, shochu, butterfly pea, lavender, yuzu and domaine de canton. Check out the cocktail recipe below.
1.5 oz Shochu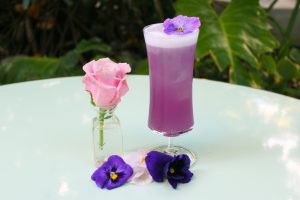 1 oz Silver Tequila
.5 Canton
.75 Lemon Juice
.25 Yuzu
1 oz butterfly pea & lavender syrup
3 Dash Free Foam
Photo courtesy of Swan.