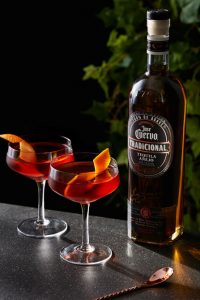 Ingredients:
2 oz Jose Cuervo® Tradicional® Añejo Tequila
1 oz Sweet vermouth
.25 oz Coffee-Infused Bitter Aperitivo Liqueur
1 dash Regans' Orange Bitters
Glass: Cocktail
Garnish: Orange twist or cherry
Directions:
For the aperitivo liqueur, add two parts bitter aperitivo liqueur and one part cracked coffee beans to a resealable container. Allow to infuse for a couple hours and then strain into a clean container. For the cocktail, add all of the ingredients to a mixing glass and fill with ice. Stir, and strain into a cocktail glass. Garnish with an orange twist or a cherry.
Recipe and photo courtesy of Jose Cuervo.