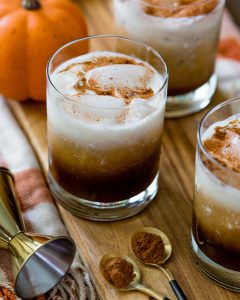 Ingredients:
2 parts Pinnacle® Original Vodka
1 part coffee liqueur
1 part heavy cream
1 tablespoon canned pumpkin puree
2 teaspoon pumpkin pie spice
Directions:
Add all ingredients to a cocktail shaker filled with ice. Shake and strain over ice. Garnish with pumpkin pie spice. Tip: If you want a traditional white Russian look to your cocktail, you can pour the heavy cream on at the end.
Courtesy of Pinnacle Vodka, made in partnership with author and lifestyle influencer Courtney Whitmore.