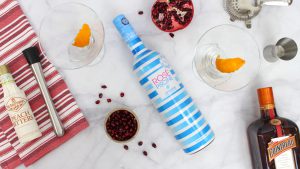 Ingredients:
Rosé Piscine
1 Pomegranate
Brandy
Cointreau
Peach Bitters (for taste)
Sugar
Instructions:
1. Place a half a cup of pomegranate seeds into glass.
2. Grind pomegranate seeds.
3. Add 3 parts Rosé Piscine
4. Add ¾ parts Brandy
5. Add ½ part of Brandy
4. Add a couple drops of Peach Bitters
6. Add ice, and shake well.
7. Add sugar to a martini glass rim.
8. Filter cocktail, add fruit accents, and enjoy!
Courtesy of Rosé Piscine.