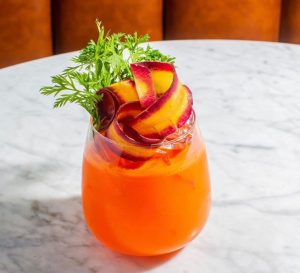 Ingredients:
3 oz fresh carrot juice
1 oz ginger syrup (ginger root that's blended with simple syrup)
.75 oz fresh lemon juice
1 drop vanilla extract
1.5 oz Fever-Tree Ginger Beer
Directions:
Add all ingredients except ginger beer into shaker and shake hard for five seconds with five ice cubes. Pour ginger beer into shaker and strain Into chilled ice filled glass. Garnish with carrot curls / sprig parsley.
Recipe by Gaby Mlynarczyk, Beverage Director, The Fat Radish