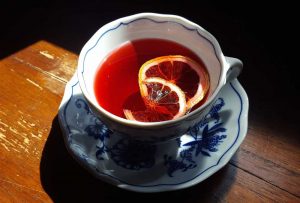 Ingredients:
1 oz Benedictine Liqueur
1/2 oz The Perfect Purée Blood Orange Concentrate, thawed
Lemon
Clove
Star anise
Ginger
Cinnamon
Cream
Directions:
In a tea pot, infuse lemon peels, ginger, star anise, ginger, cinnamon with hot water. Once infused, pour tea into a coffee mug with Benedictine and Blood Orange Concentrate. Garnish with lemon peel and cream.
Recipe by Manny Hinojosa. Photo courtesy of The Perfect Purée.