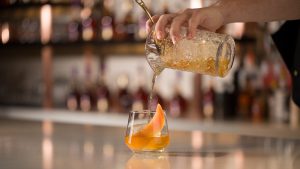 Ingredients
2 parts Courvoisier® VSOP Cognac
¼ part Earl Grey Syrup*
2 dashes Lemon Bitters
Directions
Build all ingredients in an old-fashioned glass. Add ice. Stir. Garnish with a grapefruit swath. *To make the Earl Grey simple syrup, make Earl Grey tea, then add super fine sugar for a 1:1 ratio.
Courtesy of Courvoisier® Cognac brand ambassador, Zahra Bates. The exclusive, one-of-a-kind cognac cocktail was inspired by rapper A$AP Rocky, who recently joined the Courvoisier® family and is featured in the brand's Honor Your Code ad campaign. Each ingredient was inspired by A$AP Rocky's personal cocktail preferences.