Thanksgiving is on Thursday, November 26, and while celebrations may look a little different this year, we can still raise a glass to gratitude. Get some inspiration with this round-up of Thanksgiving cocktail recipes.
Recuerdo Mezcal Pumpkin Pie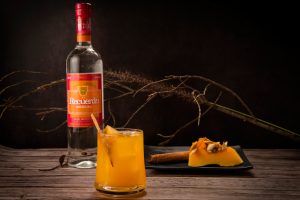 Ingredients:
1.5 oz Recuerdo Mezcal Joven
1 oz Grand Marnier
2 Tablespoons pumpkin puree
1 oz cinnamon syrup (1 cup water, 1 cup sugar, 1-2 sticks cinnamon – break apart the cinnamon sticks and heat alongside the water and sugar to a gentle boil and reduce to a simmer for 1-2 minutes while stirring. Pull off the heat and allow to sit 30-60 minutes to infuse the cinnamon. Cool and strain the cinnamon.)
Directions:
Mix all ingredients in a shaker with ice then double strain into a chilled old-fashioned glass with ice. Garnish with a roasted pumpkin slice.
Smirnoff Green Apple Cider
Ingredients: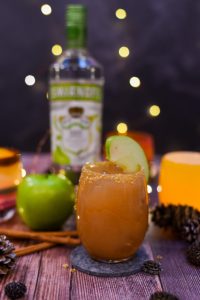 1.5 oz. Smirnoff Green Apple
2.5 oz. Apple Cider
2 oz. Club Soda
Directions:
Rim a cocktail glass with caramel and crushed graham cracker. Add the Apple Cider and Smirnoff Green Apple into a cocktail shaker with ice. Shake and strain into a glass with ice. Top with Club Soda and garnish with an apple slice.
Recipe by Kendra Darr, Simply Darrling for Smirnoff.
Proper Cider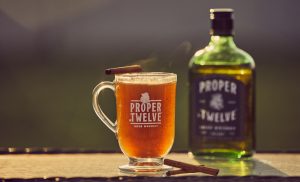 Ingredients:
2 parts Proper No. Twelve Irish Whiskey
3 parts Warm Apple Cider
Cinnamon stick (optional)
Directions:
Combine warm apple cider and Proper No. Twelve. Garnish with cinnamon stick.
Thanksgiving-Rita
Ingredients: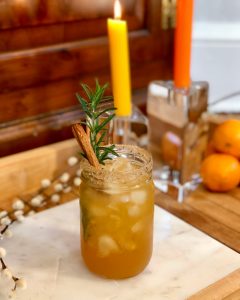 2 oz. Taffer's Margarita Mix
2 oz. Tequila
0.5 oz. Grand Marnier
0.25 oz. Apple Cider
Cinnamon Stick
Rosemary
Cinnamon Sugar & Salt Rim
Directions:
Mix all ingredients in a shaker with ice. Strain into an ice-filled glass with a cinnamon sugar and salt rim. Garnish with cinnamon stick and rosemary.
Golden Days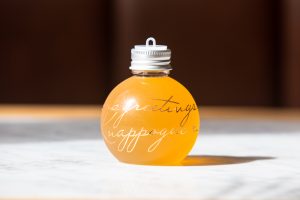 Ingredients:
1.5 oz Knappogue Castle 12 Year Old
.25 oz Pear Brandy*
.5 oz Chai Tea** Honey Syrup
1.25 oz hot water
Directions:
Add all ingredients to mixing glass stir with ice strain into rocks glass over fresh ice. Garnish with grated nutmeg.
Recipe by ms. franky marshall. Photo by Alex Staniloff.
Bulleit Bourbon Cranberry Old Fashioned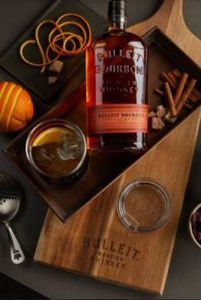 Ingredients:
Bourbon Soaked Cranberries
2 oz dried cranberries
4 oz Bulleit Bourbon
1 cinnamon stick
Cranberry Old Fashioned
1 1/2 oz Bulleit Bourbon
1/2 oz infused Bulleit Bourbon, from the dried cranberries
1 spoonful soaked cranberries
2 strips orange zest
2-3 drops orange bitters
1 tbsp simple syrup, or to taste
orange wedges, for garnish
Directions:
Bourbon Soaked Cranberries
1. Add the cranberries, bourbon, and cinnamon stick to a sealable glass container. Give it a stir and let the mixture sit on the counter for 1 day.
2. Remove the cinnamon stick and put the bourbon cranberries in the refrigerator.
3. Keep up to 1 month, refrigerated.
Cranberry Old Fashioned
1. Fill a glass with ice.
2. Add the bourbon, infused bourbon, some of the bourbon cranberries, orange zest, orange bitters. Stir the cocktail and taste.
3. If needed, add sugar syrup a little at a time until the cocktail is sweetened to your liking.
4. Garnish with orange wedges.
Note: Makes 6-8 cocktails
Recipe and photo courtesy of Bulleit Frontier Whiskey.
Palomakin
Ingredients: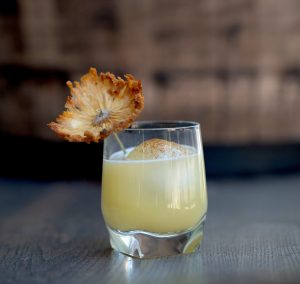 2 oz El Sativo Blanco
1/2 oz Fresh Lemon
3/4 oz Pumpkin Spice Agave Syrup*
3/4 oz pineapple juice
pinch of cayenne
Pumpkin spice agave syrup:
1½ cups water
1 cup light agave
½ cup dark brown sugar
4 cinnamon sticks (or 1 tsp. cinnamon, or a combination thereof)
½ tsp. fresh ginger juice
½ tsp. ground nutmeg
½ tsp. ground cloves
¼ cup canned pumpkin
Directions:
For the pumpkin spice agave syrup, combine the water and both agave and brown sugar in a saucepot and bring to a boil. Stir until the sugar dissolves, then reduce heat to low. Add the cinnamon sticks, ginger, nutmeg, cloves and pumpkin, and whisk vigorously to combine. Let simmer for about 5-10 minutes, stirring constantly. Do not let it come to a boil. Turn off the heat and let cool for 10-20 minutes on the stove. Strain through a fine-mesh strainer and store in the refrigerator for up to 2 weeks. Makes 2 cups. For the cocktail, add El Sativo, Lemon, PSAS and pineapple to a shaker tin.  Ice shake and fine strain over one large rock. garnish with a pinch of cayenne and a dried pineapple flower.
Recipe courtesy of El Sativo Tequila.
Sweater Weather
Ingredients:
2 oz Knappogue Castle 12 Year Old Irish Whiskey
1 tsp Grade B Maple Syrup
1 tsp Tempus Fugit Crème de Cacao
1 tsp Pierre Ferrand Dry Curaçao
1 dash Angostura Bitters
Directions:
Build in glass. Garnish with a trimmed, expressed & inserted orange peel.
Recipe created by Joaquín Simó, Pouring Ribbons. Photo by Liz Clayman.
Passoã Sangria
Ingredients: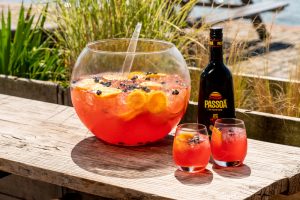 1 part Passoã
2 parts rosé wine
Fresh oranges, berries, stone fruits and whatever else you like!
Directions:
Mix over ice in a pitcher. Don't have a pitcher? No problem. Use whatever you have at hand, as long as it's big.
Recipe courtesy of Passoã.
Pumpkin Spice Latté Martini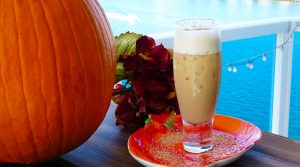 Ingredients:
1 tablespoon pumpkin purée
1 shot of espresso
1 oz. milk (or to taste)
1.5 oz. Toast™ Vodka
Directions:
Shake and strain all ingredients over ice into a Collins glass. Garnish with fresh grated nutmeg.
Fall Spice Margarita
Ingredients: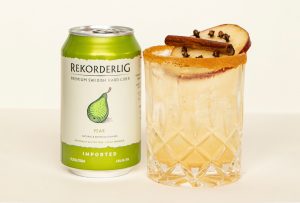 1 Can of Rekorderlig Pear Cider
1 oz Tequila
0.25 oz Triple Sec
0.5 oz Lime juice
Pinch of Cinnamon
4 Whole Cloves
Directions:
Shake all ingredients except the cider. Strain over fresh ice in a glass. Top with Pear cider.
Recipe courtesy of Kate Nash.
Salted Smoke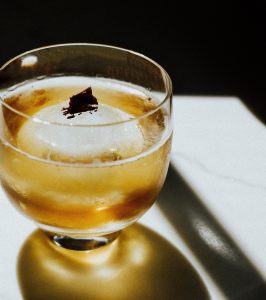 Ingredients:
2 oz OH Bourbon
1/4 oz maple syrup
3 dashes salted cacao bitters
Cacao Nibs
Directions:
Build in a tin with ice. Add whiskey,maple syrup and salted cacao bitters. Stir and strain into a rocks glass, Garnish with Cacao nibs.
Proper Hot Chocolate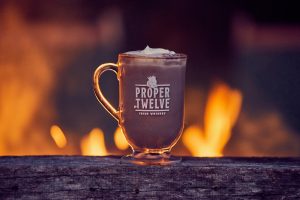 Ingredients:
1 part Proper No. Twelve Irish Whiskey
4 parts Hot Chocolate
Directions:
In a mug, combine hot chocolate and Proper No. Twelve whiskey. Top with marshmallows or whipped cream.
The Green Beast
Ingredients: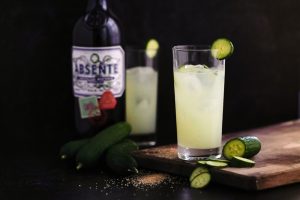 1.7 oz of Absente Absinthe Refined
1.7 oz of natural lemon juice
1.7 oz of sugar cane syrup
1.7 oz of water
Infused with cucumber leaves
Directions:
Put all the ingredients in a shaker. Serve in a glass and decorate with a slice of lemon or cucumber.
Recipe courtesy of Absente. Photo by Raoul Beltrame.
Autumn Breeze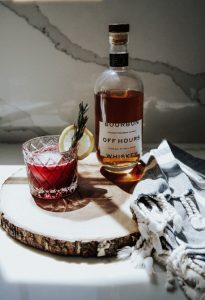 Ingredients:
2 oz OH Bourbon
1 oz Lillet Blanc
1 oz Creme de Cacao
.25 oz Pernod Absinthe
Sprig of Rosemary
Fresh Cranberries
Directions:
Combine all ingredients in a tin with ice and stir until very cold. Strain into a cocktail coupe. Garnish with fresh cranberries and rosemary.
Apple Cinnamon Cooler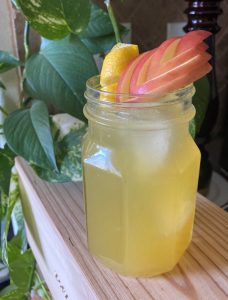 Ingredients:
2 oz. Vegas Baby Vodka
2 oz. Cold-pressed apple juice
2 oz. Fresca soda
1 oz. Cinnamon syrup
2 dashes of Free Brothers Rhubarb Bitters
Apple slices, for garnish
Lemon twist, for garnish
Cinnamon Syrup:
24 oz. White sugar
10 oz. Water
10 cinnamon sticks
Directions:
For cinnamon syrup, combine all ingredients in pot and bring to medium boil. Stir boiling syrup long enough to ensure that the sugar has melted. Let simmer to taste, then let it cool. Fine strain afterwards. For cocktail, combine all ingredients and shake. Fine strain over ice and garnish with a sliced apple and lemon twist.
Smirnoff Whipped Pumpkin Pie
Ingredients: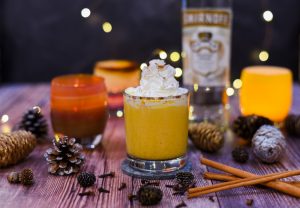 1.5 oz. Smirnoff Whipped Cream
2 oz. Pumpkin Puree
3.5 oz. Milk
Dash of Cinnamon Bitters
Directions:
Add the Pumpkin Puree and Milk into a cocktail shaker. Stir until well combined. Add in the Smirnoff Whipped Cream and 4 dashes of Cinnamon bitters. Strain into a glass and top with whipped cream and pumpkin pie spices.
Recipe by Kendra Darr, Simply Darrling for Smirnoff.

Recuerdo Mezcal Apple Cider
Ingredients: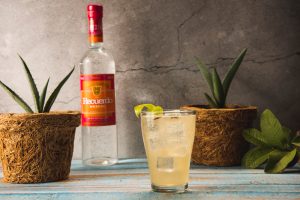 1.5 oz Recuerdo Mezcal con Gusano
2 orange slices
1 cinnamon stick
.75 oz simple syrup
Apple cider
Soda water
Instructions:
In a shaker muddle the orange slices, cinnamon stick, and simple syrup then add the Recuerdo Mezcal, fill with ice and shake. Double strain into a highball with ice, fill with apple cider, and finish with a splash of soda. Garnish with a piece of the cinnamon stick.