Pisco is a colorless or yellowish-to-amber colored brandy produced in winemaking regions of Peru and Chile. It is made by distilling fermented grape juice into a high-proof spirit. Pisco is commonly used in sours, and we celebrate National Pisco Sour Day on the first Saturday in February.
Looking to add some pisco pizazz to your cocktail menu? Try one of the pisco sour cocktail recipes below.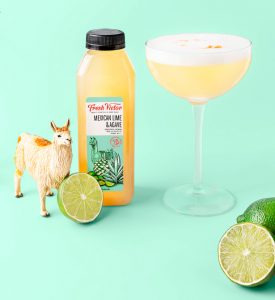 Pisco Sour
Ingredients:
2oz Fresh Victor Mexican Lime & Agave
2oz pisco
.75oz egg white
Directions:
Add all ingredients to a cocktail shaker full of ice, shake well, and strain up into a cocktail glass. Garnish with three individual drops of Angostura bitters, placed in a triangle pattern
Recipe courtesy of H. Joseph Ehrmann, Chief Mixology Officer for Fresh Victor Mixers
Yuzu Sour
Ingredients:
2 oz pisco
2 oz The Perfect Purée Yuzu Luxe Sour thawed
1 egg white
Directions:
Combine all ingredients in a cocktail shaker filled with ice. Shake vigorously then strain into a chilled cocktail glass. Finish with a few dashes of your favorite bitters and Serve.