What flavor is more synonymous with summer than watermelon? Tuesday, August 3, is National Watermelon Day, and we propose celebrating with a refreshing watermelon cocktail in hand.
Ginger's Melon Cocktail
Ingredients: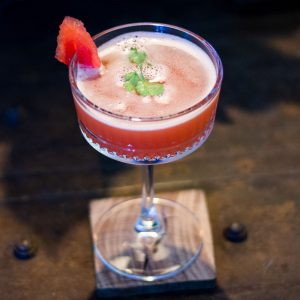 2 oz. TyKu Soju
1/4 oz. Dekuyper Watermelon Pucker
2 barspoons The Perfect Purée Ginger Puree, thawed
2 oz. fresh cubed watermelon
1 barspoon agave nectar
watermelon & mint sprig for garnish
Directions:
Muddle Ginger puree gently in mixing glass. Add remaining ingredients except garnish. Add ice and shake with a Boston Shaker. Double strain over a tea strainer into a chilled Martini glass. Garnish with a wedge of watermelon & mint sprig. Serve.
Recipe courtesy of Caterina Miltenberger for The Perfect Purée of Napa Valley. Photo courtesy of The Perfect Purée of Napa Valley.
Grilled Watermelon Margarita
Ingredients: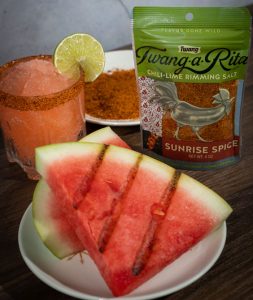 1/2 cup fresh grilled Watermelon, Mango or Cucumber (depending on preference)
1 ounce fresh squeezed Lime Juice
¾ ounce Agave syrup – adjust to your taste
2 ounces Blanco Tequila
1 cup of Ice
Twang-A-Rita Sunrise Spice
Directions:
Lightly grill fruit of choice on a grill. Add grilled fruit, ice, lime juice, tequila, and agave syrup to blender and blend on high speed. Rim glass with Twang-A-Rita Sunrise Spice or your favorite Twang salt. Pour into your rimmed glassware and enjoy!
Recipe courtesy of Aaron Peña, bartender and owner of The Squeezebox and Amor
Eterno in San Antonio, and Twang.
Whatamelon
Ingredients: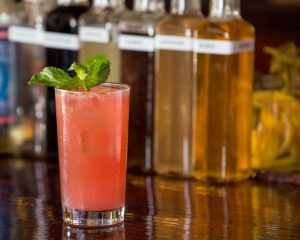 1 oz Fresh Victor Mexican Lime & Agave
1.5 oz white spirit*
1 oz Elderflower liqueur
2 oz watermelon juice or 5 1" watermelon cubes
6 mint leaves
Directions:
In a mixing glass, add watermelon cubes or juice and 5 mint leaves, muddle and top with remaining ingredients. Fill with ice and shake well for ten seconds. Hawthorne strain tall over fresh ice and garnish with a slapped mint leaf.
Recipe by H. Joseph Ehrmann of Elixir Bar in San Francisco for Fresh Victor.
Torrid Affair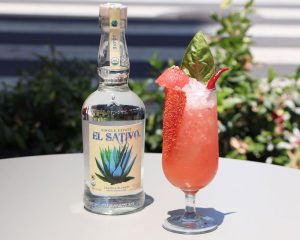 Ingredients:
2 oz El Sativo Blanco
4 tablespoons of watermelon chunks
3/4 oz chile arbol syrup
1/2 oz fresh lime
1/4 oz Aperol
Basil
Directions:
Add the watermelon chunks to a Shaker tin and muddle. Add the other ingredients and ice, shake, and strain into a chamoy and tajin rimmed highball glass with large rocks and top with pebble ice. Garnish With a basil leaf a scoop of watermelon with a pinch of Himalayan sea salt and tajin on top of the watermelon scoop.
Recipe courtesy of El Sativo.
Frozé
Ingredients: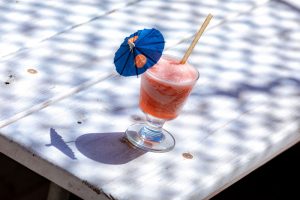 1oz Fresh Lime Juice
1.5oz Martini Fiero (or other Aperitif)
2oz Filtered Water
2oz Coconut Water
2.5oz Lavender Syrup (we use Monin)
3oz Rose Wine (for drier acidic profile, use Provencal Style. For fruit forward, use dark fruit based like Pinot Noir or Syrah)
3oz Lillet Rose
4oz Fresh Watermelon Juice
Directions:
Combine all ingredients into empty 750ml bottle and place into freezer, agitating occasionally, until desired texture (should be about 2-3 hours). Combine all ingredients except water and place into ice cube trays overnight. Remove frozen cubes and put into blender and add water. Blend until desired texture is reached and serve. Finish with a spritz of rose water (we mix water to rose water at a 10:1 ration and put into atomizer for this). Makes two servings.
Recipe courtesy of The Waterfront in Venice Beach, CA.

Watermelon & Rosemary Gimlet
Ingredients: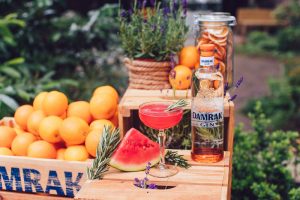 1 ¾ oz Damrak Gin OR Damrak VirGin
1 cup watermelon cubes
½ oz rosemary syrup
¾ oz lime juice
Directions:
Muddle the watermelon in a shaker, add all ingredients, shake and fine strain into a pre-chilled coupe. Garnish with rosemary sprig.
Spicy Cucumber Watermelon Margarita
Ingredients: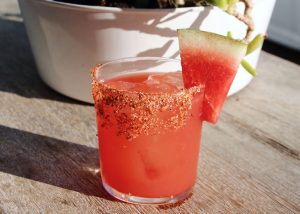 2 oz watermelon juice
1.5 oz jalapeno / cucumber-infused mezcal
.75 oz fresh lime
.5 oz agave
Directions:
Combine all ingredients in a shaker tin with ice. Shake & fine strain over ice in a rocks glass garnished with a tajin rim and watermelon slice.
Recipe courtesy of Hermanito.
Strawberry Watermelon Gin Cooler
Ingredients:
For the cocktail:
1 ½ oz Bimini Gin
4 chunks watermelon (about 1/4 cup)
1 oz freshly squeezed lime juice
½ oz pink grapefruit liqueur (I like to use Giffard)
¾ oz strawberry syrup
For the strawberry syrup:
1 cup water
1 cup sugar
2 cups strawberries, washed, hulled, and chopped
Directions:
For the strawberry syrup:
Combine the sugar and the water in a small saucepan over medium heat. Stir until the sugar has dissolved, then add the strawberries and cook just until the fruit begins to break down, about 5-10 minutes. Remove the syrup from the heat and allow to cool, then strain out the fruit with a fine mesh strainer. Store leftover syrup in a covered container in the refrigerator for up to two weeks.
For the cocktail:
In the bottom of a cocktail shaker, muddle the watermelon with the lime juice. Add the gin, strawberry syrup, and grapefruit liqueur and fill the shaker 3/4 with ice. Shake until chilled, then strain the cocktail into a small wine glass or rocks glass filled with ice. Garnish with watermelon and a kinome leaf (if desired).
Recipe on behalf of Bimini.
1800 Watermelon Cooler
Ingredients: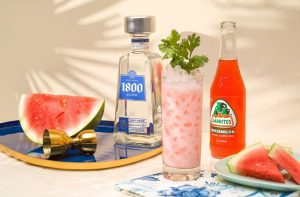 2 oz. 1800 Silver
4 oz. Jarritos Watermelon
½ oz. fresh lime juice
½ oz. cream
Directions:
Build all ingredients in a soda fountain glass with crushed ice, stirring gently to incorporate. Garnish with a watermelon wedge and a fresh cilantro sprig.