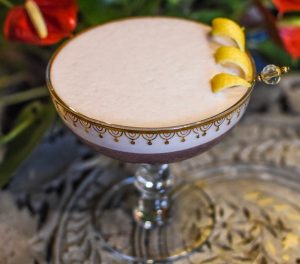 Ingredients:
2 oz Balvenie 12 DoubleWood Whiskey
2 barspoons Berry Preserves
1/4 oz Allspice Dram
1 oz Fresh Lemon Juice
4 dashes Molasses Bitters
1 Egg White
Directions:
Add all ingredients to tin and shake briefly without ice. Then, add ice and shake vigorously. Strain into a coupe and garnish with a lemon twist.
Photo and recipe creation by The Balvenie Brand Ambassador Naomi Leslie