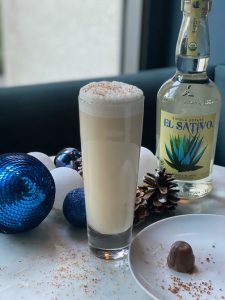 Ingredients:
2 oz El Sativo Blanco (a Kosher tequila!)
1 oz Coconut Heavy Cream
1 oz Simple Syrup
1 oz Egg White
.25 oz Fresh Lemon Juice
.25 oz Fresh Lime Juice
.25 oz Mr. Black Coffee Liqueur
3 drops of orange flower water
Directions:
Add all ingredients to shaker tin, egg whites last. Heavy dry shake for 30 seconds. Ice, shake for 30 seconds. Strain into a wine or Collins Glass. Top with sparkling water until the fizz pops out of the glass. Shave nutmeg on top.
Recipe and photo courtesy of El Sativo Tequila.