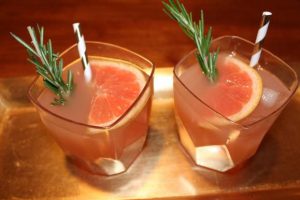 Simple Syrup:
– 2 cups of water
– 2 cups of sugar
– 6 sprigs of rosemary
In a small sauce pan over medium low heat, dissolve the sugar into the water for about 5 minutes. Do not let the mixture boil or crystals will form. In a heat safe container, pour the warm sugar water mixture over the rosemary sprigs and let it steep for at least 1 hour.
Cocktail:
– 2 oz. Salute American Vodka
– ½ oz. rosemary simple syrup
– 4 oz. grapefruit juice
– Rosemary for garnish
In a glass filled with ice combine the vodka, rosemary simple syrup and grapefruit juice. Garnish with a sprig of rosemary. Cheers!
Courtesy of Salute American Vodka