With so much uncertainty this year, it can be comforting to turn to the things in life that remain consistent – and what is more consistent than the classic Negroni cocktail? A long enduring favorite of cocktail drinkers around the world, this Italian cocktail staple is proving to be the go-to as we move into the cooler autumn months.
In 1919, Count Camillo Negroni famously invented the Negroni in Florence, Italy, when asking his bartender to stiffen his Americano by replacing the soda water with gin. A century later the essential aperitif is beloved by drinkers around the world.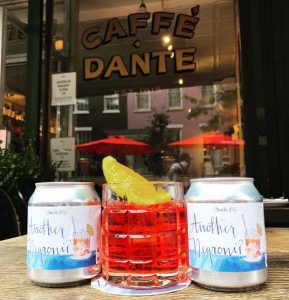 Today, popular bars and restaurants around New York have recently added the season's it cocktail to their fall menus, with some great options for both on-premise or take-home enjoyment. Cocktail bar Dante NYC is offering a to-go canned Negroni great for outdoor or at-home consumption. Bathtub Gin and The Mondrian are currently serving The Classic Negroni and have great outdoor seating options for safe imbibing with friends and family. Whether crafted at home or enjoyed as a newly opened restaurant or bar, a Negroni is the perfect way to celebrate the welcomed autumn months.
In celebration of this classic cocktail and in support of the restaurant & bar industry, Martini and Bombay Sapphire will be extending a special Negroni edition of Tip Your Bartender, an ongoing program that matches tips to benefit the Restaurant Worker's Community Foundation.
Below, find a variety of Negroni recipes, both classic and innovative, to celebrate the beginning of autumn.
The ingredients for the classic Negroni are even now available for purchase in a convenient bundle through ReserveBar, to be delivered straight to your doorstep.
The Classic Negroni
Ingredients: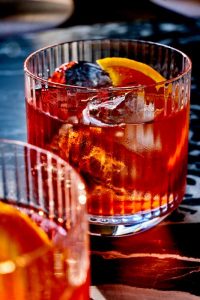 25 ml Bombay Sapphire
25 ml MARTINI® Rosso Vermouth
25 ml MARTINI® Bitter
Orange wedge
Ice chunks
Directions:
Fill a tumbler with ice. Build ingredients in the glass and stir gently to mix. Garnish with orange wedge.
Negroni Bianco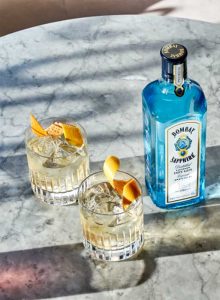 Ingredients:
30ml Bombay Sapphire gin
30ml Noilly Prat Original Dry Vermouth
30ml Italicus Rosolio di Bergamotto
GARNISH
1 lemon peel
Directions:
Pour all three ingredients together in a glass and serve over ice with lemon peel.