Vivid, the software and integrated payments leader for the restaurant industry, announced the launch of Vivid POS. Vivid POS is an iOS- and Android-based omni-channel point-of-sale (POS) system, built by restaurateurs, for restaurants.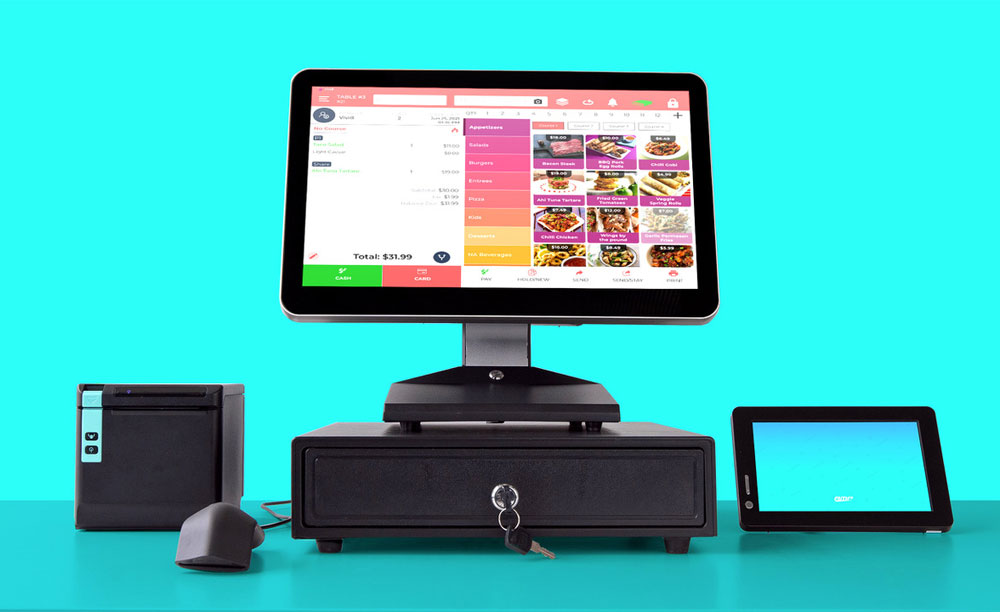 Scalable, flexible, and highly customizable, Vivid integrates a powerful cloud-based software platform and POS hardware that supports today's varied restaurant environments—from QSRs, coffee shops and bars, to FSRs and fine dining establishments—empowering small- and mid-size businesses to serve customers exactly, where, when, and how they want.
Built with value in mind, Vivid supports both traditional and online restaurant operations, providing merchants with the flexibility to implement omnichannel sales approaches. Vivid facilitates online, mobile, and at-table smart phone ordering using QR codes and mobile menus. Vivid also supports self-order kiosks, and the company's platform enables cash discount and surcharge capabilities. What's more, the Vivid POS on-screen checkout process makes transactions quick and easy, empowering merchants to sell more with fewer clicks, and to train employees more quickly.
"Our goal is to challenge the industry's established players, and Vivid's flexible solution empowers restaurants to start small and scale, and to select the best-of-breed solution components that ideally suit their business," said Derek Henmi, Vivid Co-founder and CEO. "Our methodology for customer solution scoping and implementation is the industry's most cost- and resource-efficient approach, and we provide retailers with the customized solutions they need, not a 'canned' vendor solution. As such, we enable restaurants to scale as their business grows, and our solutions deliver value with every transaction."
The Vivid platform also helps drive front-of-the-house and marketing operations, with online reservation functionality and customer retention features, including gift card and loyalty program management capabilities. Vivid also supports back-of-house activities, with a comprehensive kitchen ticketing system and a third-party delivery app manager that enables restaurants to take orders from all popular meal delivery services and send them directly into their POS.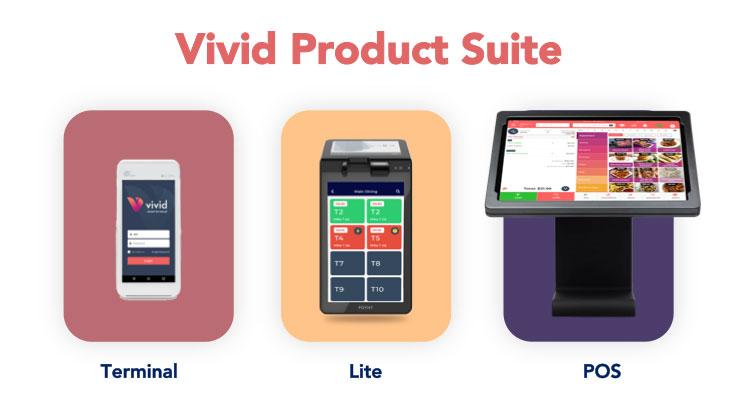 More About the Vivid Platform
All Vivid solutions are built on a state-of-the-art, easy-to-use cloud software platform—an industry-leading solution—which integrates powerful POS and back office capabilities that enhance sales and profitable revenue.
Vivid POS capabilities include:
Omnicommerce – True omnichannel support, enabling restaurants to transact in brick-and-mortar settings, as well as in online and mobile, with support for gift cards and loyalty programs.
Software Interoperability – Featuring APIs to popular order management, accounting, payroll, and scheduling systems – including Chowly, Shopify, and Door Dash Drive — as well as reservation systems, marketing platforms, and more, Vivid does it all to ensure maximum accounting and operations flexibility for merchants.
Security – Vivid is PCI level 1 certified and PA-DSS validated, leverages a secure network implementation, and is built to protect sensitive cardholder data.
Streamlined Ordering and Checkout – Support for QR code ordering, mobile orders, and payments. Checkout functionality includes online/offline capabilities.
Online and Offline Payments – Customers can place orders and pay online, and Vivid also offers support for offline payments, for times when power and/or internet are not available.
Quick Employee Training & Ramp-Up – Ease-of-use built into the Vivid platform means that companies can achieve fast time-to-revenue and expedite employee productivity.
Reporting & Analytics Functionality – Live, cloud-based reporting delivers data-driven insights from every transaction, including product and card reports, as well as market analytics. Oversight comes via daily reports, delivered directly to the merchant/owner's inbox.
Revenue Overview – Offering restaurateurs valuable insights into revenue from each service area, including dine-in, takeout, and delivery, so that restaurant operators can generate valuable, actionable data from sales reports.
Smart Job Allocations – Merchants can assign multiple roles to a single employee, and even set different hourly rates for different tasks, which also makes running payroll easier and more streamlined.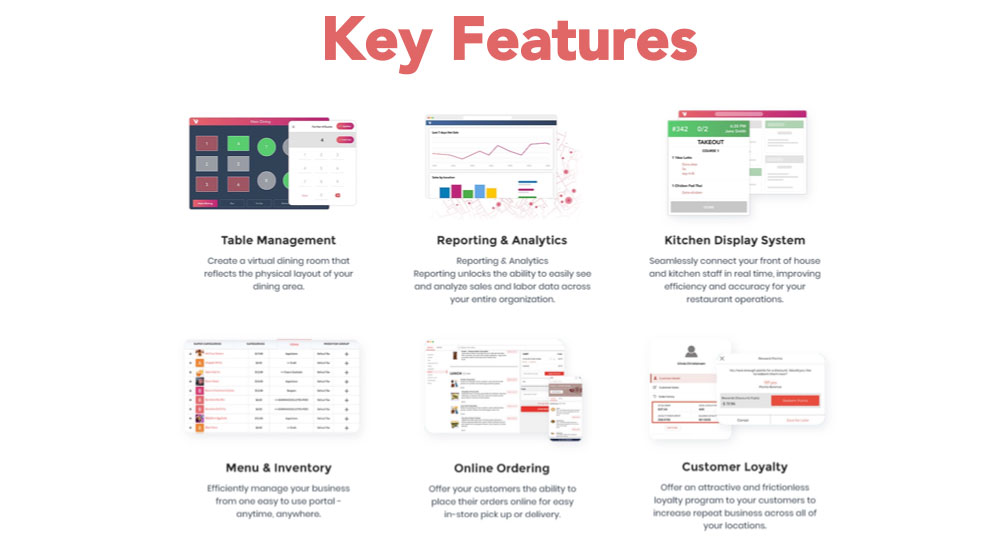 Vivid has also curated a suite of hardware solutions that covers a broad range of restaurant needs, ranging from the smallest credit card smart terminals, to systems that integrate tablet computers, self-order kiosks and more that support EMV payments, and omnichannel commerce. The company also offers hardware peripherals like cash drawers and receipt printers, for a comprehensive, one-vendor solution that enables merchants to pick and choose the products that meet their unique performance needs and budget. Key hardware partners include AMP (Advanced Mobile Payment (AMP), Inc., and Poynt.
Advanced Mobile Payment Partnership
Vivid's strategic partnership with AMP (Advanced Mobile Payment) Inc., a global provider of complete payment solutions and EMV smart devices, will deliver integrated POS solutions that run Vivid's cloud-based, processor-agnostic POS software on AMP's line of Android-based terminals and POS hardware.
Vivid's scalable, flexible and highly customizable software is optimized for performance on AMP hardware, including the new AMP Bridge. The Intel-powered Bridge is an all-in-one countertop solution built to handle a wide range of tasks, including EMV Level I and Level II payments, inventory and employee management and more, and provides the speed and processing power to work with state-of-the-art software like Vivid POS. With ECR and ETR functionality, the Bridge terminal incorporates the key features of a traditional POS ECR device into a compact tablet-based solution that integrates with peripherals like cash drawers and wireless barcode scanners.
"The combination of Vivid's POS software and AMP hardware presents a compelling value proposition for restaurants of most any size," commented Derek Henmi, Vivid Co-founder and CEO. "Both AMP and Vivid are challengers in the payments space, and the speed, performance and features that we're delivering are unmatched in the industry for value and solution completeness. As such, we're thrilled about this new partnership."
In addition to the AMP Bridge, Vivid POS software can be configured to operate on the complete line of AMP hardware devices, including AMP's range of Android portable devices, the AMP 6500 self-service terminal, and AMP's premium all-in-one smart self-service kiosk.
"Partnering with Vivid was an obvious choice, given the breadth and depth of their POS solution," said Parsooa Bondar, Co-founder and CEO of AMP. "The capabilities of their software platform are a match for retail establishments of any type and size, and by integrating AMP's complete ecosystem of hardware, our combined offering makes sense to customers from a performance and value standpoint."