Televisions play an important role in the overall bar aesthetic. And more than ever, bars and restaurants are cutting the cord on traditional cable in lieu of curated music videos,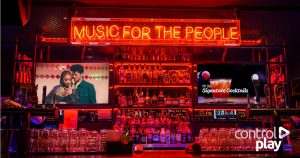 viral videos, social media, and engaging content—all with the goal of creating an entertaining and exciting venue for customers.
"Entertainment is a key part of customer engagement in any business," says Adam Hirsen, Co-Founder and CEO of UPshow.
Consumers are constantly bombarded by ads. As a result, they've become experts at tuning out marketing materials and promotions. "Providing an engaging in-venue experience is key to drawing those customers back in, so that they are paying attention when you do choose to market to them," says Hirsen.
It's important to learn exactly what companies offer in terms of products and services when it comes to television-based entertainment. You can find three different companies below.
Loop Media
Loop Media prides itself on offering premium entertainment options. They do this by offering clients on-screen music videos, interactive programs, and viral videos. The design is to create word-of-mouth brand promotion for your bar as well as help create a system of exciting guest engagement.
Loop offers access to the most comprehensive music video and audio catalog in the world. This comes with multiple custom-curated playlists that are created for each individual brand. "Additionally, clients have the ability to insert their brand's digital signage within the entertainment programming to drive sales," says Jeremy Miller, Director of Business Development for Loop Media.
Delivered through an inexpensive streaming player, Loop TV gives clients the ability to control their playlists, digital signage, and more from a web-based "business portal" or via remote in-venue. "Future features include the option for guests to influence the playlists and share their experiences on social media," says Miller. "The guest has a great time, the business gets more organic social exposure and can reward brand advocates with special deals via push notifications."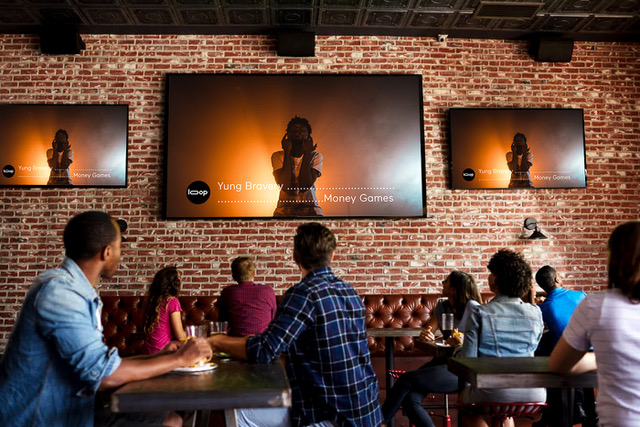 The company's store-forward ScreenPlay service is designed for casinos, hotels, and other large properties and is now capable of managing up to three separate zones of music video/signage and 22 zones of overhead/background music from a single device. "The product philosophy behind both offerings is simplicity for the busy operator," says Miller.
Loop services all types of businesses from smaller venues operated by independent owners to some of the largest multi-million-dollar buildout hospitality groups in the world. "We encourage anyone interested in our service to see it in action at one of our many locations," says Miller. "Better entertainment keeps guests in the buying process longer and creates brand advocates who love talking about their experience, which now more than ever is crucial to bringing new business and keeping repeat visitors coming back."
Loop empowers clients to tailor their music and video service to match their brand identity. This offers operators a high degree of flexibility to ensure the right content is in rotation on the right screens, at the right time. "Whether that be the genre of music and video content playing fits their demographic, using their screens primarily for marketing, showcasing hilarious comedy content, or making Loop's content visible on just a handful of TVs during a big sporting event to entertain guests who may not be that into sports," says Miller. "We always make a point to get to know our clients and their customers, and we all learn something in the process."
UPshow
Upshow was founded in 2015 as a screen-based consumer engagement platform that uses TVs and customers' smartphones to engage and improve the overall experience.
"UPshow gives bars total control over the content that appears on its TVs with a comprehensive entertainment and marketing offering," says Hirsen. "This includes hyperlocal channels that cover every team (pro/college/local) and topic that matters to guests, as well as trivia and the world's best viral video channels."
Upshow's newest feature includes the ability to track the performance of on-screen marketing materials, proving that screen-to-mobile engagement can be a key revenue driver to businesses. "We're also excited to offer a dynamic sports betting experience in states where it's legal," says Hirsen.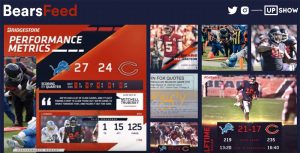 UPshow believes that cable isn't the only option anymore, and it definitely shouldn't be the only thing on a bar's TVs. "Most of the time, playing national programming risks showing irrelevant or inappropriate content to your guests, or worse, exposing them to advertising from your competitors," he says. "Replacing or complementing cable with a customizable engagement platform increases the control your venue has over what your customers see and grants you the opportunity to drive the outcomes that matter most from some of your biggest in-venue assets."
Major brands like Buffalo Wild Wings, Wendy's, and Chick-fil-A are using the UPshow platform to entertain their guests. "Wendy's cut the cord on its TV service in almost 100 locations," says Hirsen. "One of its largest franchises (Hamra) adopted a branded 'Social TV' platform that provides hyperlocal, social media-powered content feeds from Instagram and Twitter, with hundreds of location and interest-based social feeds."
Control Play
Control Play is a full-featured entertainment solution built specifically for the foodservice industry. "It's a software and service that provides the best music and music video playlists as well as digital signage and aims to help subscribers exceed their guests' expectations," says Adam Lumley, Director of Communications & Marketing at Control Play.
The company's goal is to create that "wow" factor in your venue as soon as a guest walks in—ensuring that they'll come back again and again.
Control Play offers a massive library of both current and classic music videos in the highest quality possible. "We also provide digital signage templates built into our player so bars can easily display animated, HD advertisements and promotions," says Lumley. "The service also grants access to our team of creative professionals who can custom build digital signage ads for you based on your specifications."
They've also added other interesting features over the past few years. "Visualizers, video text, and live RSS feeds from Twitter make it easy to add a little something extra to the on-screen experience," says Lumley. "The software even allows subscribers to upload the same content they'd use on their social media pages, so all messaging and visuals stay consistent and on-brand."
Their software is constantly being upgraded to make it easier to use and dynamic in execution. "It features an offline mode that ensures your entertainment keeps playing even if your internet connection suddenly gets cut off for a bit," explains Lumley. "New music is automatically added every day so you can give your guests the 'you heard it here first' experience. If a popular artist releases a new song or video, you can expect it to be in our player on the day it drops."
Those who understand just how important entertainment is to bars serve as the differentiator between successful and unsuccessful venues. "Today, guest experience is about way more than just serving up drinks or food; there's got to be an experience there," says Lumley. "Anyone can get quality menu items from just about anywhere; they leave the house to get more than that."
That's why it's important to consider all the details of their venue, including the audio/video setup and what's playing on it. "If you want more in your guest experience and more out of your customers, you can't afford to ignore it," says Lumley.
By Christopher Osburn