By Mark Plumlee
March Madness is almost upon us. If you run a bar or sports pub, the 66-team tournament represents a big opportunity to boost sales and increase customer engagement through March Madness promotions and giveaways.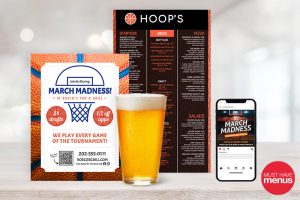 What's March Madness? For those of you not in the know, presumably, because you've been living under a rock à la Patrick Star, March Madness is the name of the NCAA basketball tournament that happens at the end of each season (except when it was canceled on account of COVID). It delivers three straight weeks of nail-biting, buzzer-beating, bracket-busting basketball. Many sports enthusiasts consider it one of, if not the, best sports events of the year.
So how can you capitalize and boost foot traffic while providing customers with a fun place to watch the games and cheer on their favorite team? Keep reading for the six best ways to celebrate the madness.
1. Host watch parties
The most straightforward way to capitalize on March Madness: Make sure your customers can watch it at your sports bar. If your business already has a litany of televisions set up, this should be fairly straightforward. The earlier rounds of March Madness are generally broadcast across four channels, so you never have to miss any of the action. If you have four or more TVs, make sure you have one tuned to each of the channels so you have every game covered.
If your bar does not already have a sports-friendly TV set up, but you think your patrons would enjoy watching the games, consider setting up a projector. You can pick up one for relatively cheap these days. Plus, once March Madness ends, you can repurpose it for other sporting events like trivia or movie nights.
If you plan on hosting a watch party, you'll need to get the word out. The most successful restaurant and bar marketing utilizes multiple channels to reach the most customers and create the most touchpoints. Post the details on your social media. Pinup some restaurant flyers around your bar a month before the event.
Consider putting out a sandwich board to catch the attention of passersby. In this modern world of constant advertising, you need to create multiple touchpoints to capture your customers' attention. You can also put QR codes on your flyers or sandwich boards, connecting your physical marketing with your digital.
2. Start a bracket challenge with your regulars
Bracket challenges are the lifeblood of the March Madness experience. They offer a fun way to follow the games, compete with friends, and wager a bit of money (if you're so inclined).
If you're unfamiliar with the concept of a bracket challenge, it's pretty simple. Once the 66-team pool has been announced, you have four days to fill out a bracket. That means you pick the winner of each game, all the way through the Final Four and championship. While variations exist, most bracket challenges work by awarding one point for every first-round win you pick, two points for every second round, and so on and so forth.
But here's the true magic of bracket challenges — it's mostly luck! Anyone can participate and have a shot at winning! Never watched college basketball? That's fine! Feel like making your picks based on whichever mascot you like more? I've seen it work!
Back in the day, bracket challenges required someone to collect all the brackets and tally them up by hand. But thanks to a little thing called the internet, it's never been easier to organize a bracket pool. Both Yahoo and ESPN offer free online bracket challenges where you can invite people to join your pool, and it automatically tracks everyone's brackets.
3. Create a special March Madness menu
Nothing signals a special occasion at your bar like a whole new menu. It can build excitement and enhance the experience for people who came to your establishment. It can also motivate and give the less-sports-inclined customers a reason to stop in and check out the new offerings.
Some quick ideas for fun March Madness menu items:
Bracket Buster Beers
Sweet Sixteen Salads
Jello shots in the color of the team playing
If you want to step up your presentation with a fun menu design, but don't have the requisite graphic design skills, menu template services make it easy with thousands of customizable templates you can edit in minutes.
4. Offer discounts for people who wear their team's gear
Cultivate a more fan-forward experience by encouraging customers to wear their favorite school's colors. College sports have a long tradition of pageantry. It helps create a sense of excitement, camaraderie, and rivalry. All these combine to make for a much more fun fan experience.
So how do you encourage this? Offer some fun promotions! Here are a couple ideas:
Happy hour prices all day if you come wearing your team's colors or jersey.
Raffle off prizes for anyone who dresses up. This could be as simple as gift certificates to your bar or sports pub (which in turn encourages them to come back).
If you offer a loyalty program, you can offer additional points during March Madness for customers who show their team pride.
5. Set up fun March Madness-themed promotions
Similar to the one before this, there are no end to the amount of fun promotions you can center around March Madness. Need some ideas? Check out our list:
Round-based promotions. For instance, the first round could be $1 jello shots. Second round could be $2 pints. The Final Four could be $4 burgers. You get the idea.
Tie the promotion into the result of the game. For example, if Gonzaga wins (Go Zags!) then happy hour prices for the rest of the night.
Allow people to wager drink deals on games. For instance, before a game starts, customers can pick the winner. If they get it right, they get half off their next pitcher.
Celebrate the madness. If someone hits a buzzer beater, all drinks are $1 for the next round.
The best March Madness promotions generate excitement and get your customers further invested in the games. Don't be afraid to have fun with it!
6. Tailor your takeout
Regardless of how well you plan and execute your March Madness watching party, some fans will always want to watch the hoops from home. That doesn't mean you can't bring your March Madness deals straight to their couch.
With the restaurant business model shifting ever further towards off-premise sales, why not tailor your takeout experience to capitalize on March Madness? Consider offering a party pack of your best wings, nachos, sliders, whatever for those customers who want to entertain. And if your state allows off-premise alcohol sales, take advantage of the higher margins on drinks by offering your March Madness cocktails and beer specials to go.
Embrace the Madness
March Madness isn't just a great time for hoops enthusiasts. It's also a huge opportunity for sports bars, pubs, and restaurants to engage with their customers. So this year, consider doing something special and embracing the madness. You won't regret it.
Mark Plumlee works as the Sr. Editor for MustHaveMenus, a DIY design and marketing service for restaurants with the largest collection of restaurant templates in the world. He enjoys covering and sampling the restaurant industry.