As supply and demand concerns change, so should the way you approach to inventory. Here are a few insights to ensure you'll continue keeping customers happy and your operations under control.
It's been nearly a year since COVID-19 forced bars and restaurants of every genre and price point to change everything overnight, from socially distanced décor arrangement to sanitation practices to menu simplification. The silver lining of this cloud is that the changes can instill best practices that will continue into better times. The same can hold true with how you can approach inventory. While you've probably had to adapt the ways you select, buy and store supplies, spirits, beers, wines and foodstuffs, there will ultimately be more adjustments you'll need to plan for that will benefit your establishment and bottom line in the long run.
"It has been really challenging and honestly, it's not really possible to maintain cash flow right now," says Amal Flores, co-owner of Hermanito in Los Angeles. "Luckily, we knew winter would be hard, so we have been budgeting for the past six or seven months for this exact reason. Also, we have been exploring canned and bottled cocktails. We have been bottling our two most popular cocktails, the margarita and the paloma, and we have been getting canned cocktails from our go to purveyors. This way, we do not need to spend money on a ton of ingredients that might go bad."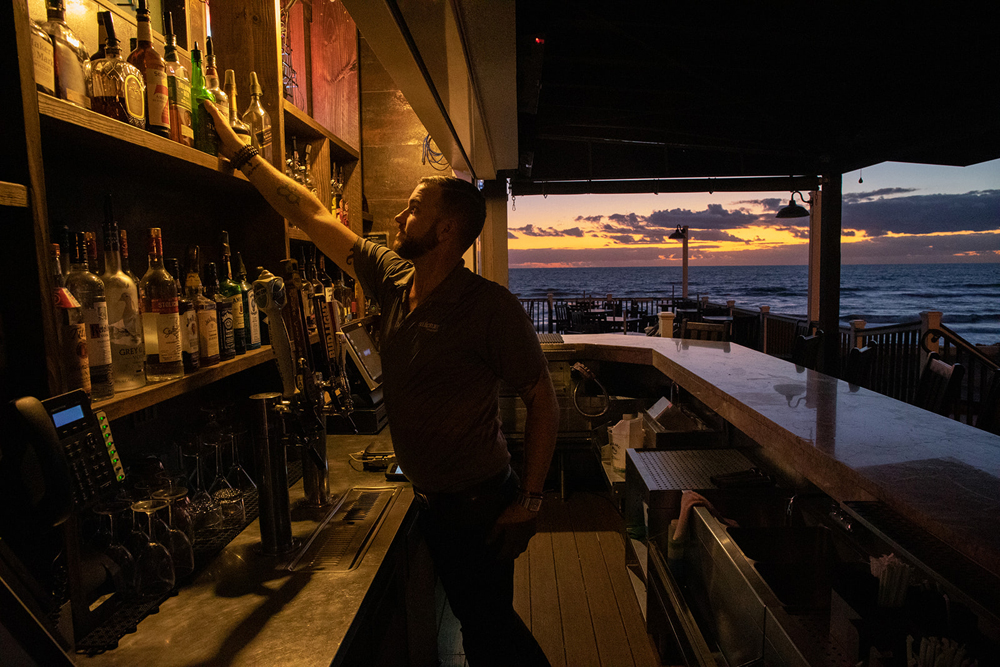 Ivan Vasquez, owner of Madre Oaxacan Restaurant & Mezcaleria (also in Los Angeles), stresses management needs to go beyond keeping track of what they know they will need beyond wine and spirits (notably, personal protective equipment, cleaning supplies and canning and bottling supplies for to-go cocktails). He advises to also keep an eye on what t their various suppliers have available so they can adjust accordingly in different situations.
"There are so many things we did not need to order before the pandemic," says Vasquez. "Much has changed for us based on the fact that laws in California and the U.S. are adjusted to allow for to-go cocktails and other streams of income such as our retail offerings. We learned a lot as we had to (rethink) our supply needs to enable us to provide outdoor service at our locations, think up smarter ways to package our drinks and so on. This is a totally new market, and hopefully the ABC (Alcoholic Beverage Control) and California laws will let us continue with it for another year to give us an opportunity to recover."
"We have had to be flexible," affirms Emily Nevin-Giannini, corporate Beverage Director for Barcelona Wine Bar, which has locations in nine U.S. states and the District of Columbia, explaining the pandemic's impact on its impressive wine program.
"Our by-the-glass program is very large, and pre-pandemic, our restaurants had on average 45-50 by the glass wines. We reduced that considerably to compensate for lower volumes, and then slowly as we were able added more and more back. We are in a constant state of reevaluating depending on the situation in each restaurant. This has a big impact on our inventory, we hold the most inventory on items we carry by the glass and keep things much tighter on our bottle inventory. Where normally we evaluate our pars seasonally, now it's a weekly thing."
Taking Stock of the Situation
"Cash flow is incredibly critical right now," assesses Joe English, Sculpture Hospitality Regional Director for Maine, Vermont, New Hampshire, Iowa, Kansas and Texas and 26-year industry veteran. "I saw a number of venues with incredible amounts of stock on hand, pre-COVID, whose management would never give a second thought to stocking up on to 'help' their suppliers. That perspective has changed drastically for most, as many clients are running very lean on stock. Pre-COVID, they looked at their walk-in cooler and thought they were going out of business if their stock was low. Nowadays, they are finding they simply don't need that much on hand."
English also notices that operators he works with are, "more aware of their checkbooks," and therefore, "far more reluctant to chase deals that their vendors send their way (and)… only bringing in what they truly need until their next delivery." However, sourcing specific spirits, particularly imports, has become a greater challenge as competing bars are scrambling for some of the same things. On the other hand, markets around the U.S. vary based on regional supply and demand. While the Midwest accounts may be out of one thing, accounts in Southern states may have plentiful supplies of the same spirit, but will out of something else.
"What I see is that accounts with the best vendor relationships fare better than others," English continues. "While Bar 'A' may be out of a particular spirit, Bar 'B' maintains stock by one week having a 1.75-liter bottle and, a week later, has several 375ml bottles. When I asked Bar 'A' why they didn't go this route, they simply told me their distributor was out. Being creative is the key to the current supply chain, along with good vendor relations."
A good example of such creativity is Madre, which has a retail adjunct offering rare spirits and packaged gifts that converges well with its reputation for stocking hard-to-find mezcals, Vasquez also acknowledges that having three locations within ten to 15 miles of each other is an advantage that other independently owned restaurants don't, especially when it comes to managing stock and sourcing important things from within the organization quickly.
"We talk every Monday morning, and share our sales numbers," explains Vasquez. "For example, we review why one location sells more reposado tequila while another sells more blanco tequila. We determine which location sells more pre-mixed cocktails, and which one sells more flights or shots served neat when outdoor service is permitted. From there, we will transfer bottles from one location to another where a particular product will sell better. While we did this once a month before the pandemic, we do it weekly to keep a closer eye on each of the stores to ensure all products we have in stock will move as quickly as possible."
Hermanito's Flores says one benefit of changing the approach to inventory is that it has made adjusting to operating in a larger restaurant "space," as his venue's dining space has expanded through the addition of outside seating and customers ordering online to bring the Hermanito restaurant experience into their homes.
"Before the pandemic, every customer wanted the perfect table with the perfect lighting," Flores observed. "We once had to figure out how to make sure outdoor patrons did not walk out without paying. After the start of the pandemic, guests were simply happy to be getting out and be served, even if it meant paying more to dine out. The latest round of shutdowns feels different than the first, however. People have less money than they did earlier, and (at press time) there was not another round of stimulus checks and the unemployment money was not what it earlier. Peoples' spending habits are different, so we are going back to the basics based on what we know people will want to eat and drink."
This reasoning meant that Hermanito's drink menu would be cut from ten selections down to the three best sellers during the holiday season. Drink specials would not be extended because of the need to order more product and increase labor, as creating something new could be a big risk with the uncertainty of how customers would receive it. Instead, management decided to order canned cocktail supplies and stick to classics such as Negronis and Manhattans.
"We've reduced products we typically have on hand (as well as) the size of our menus to accommodate fewer sales and a smaller spending capacity," says Mark Gray, Chief Operating Officer of Bottleneck Management in Chicago, who added that solvency for his restaurants so far has been accomplished through lines of credit extensions, eliminating all non-essential cost, staffing reductions and pay decreases.
"While we've innovated in terms of expanding our off-premise presence, due to our reduced financial resources and team size, we have eliminated many other initiatives. We're also (dealing with the fact that) online delivery partners are reluctant to do alcohol-to-go, and the number of guests who are opting for off-premise alcohol has not been impactful at our venues. While we think liquor-to-go may be a viable part of our future strategy, it won't have an immediate effect on how we're adjusting inventory needs."
Material Issues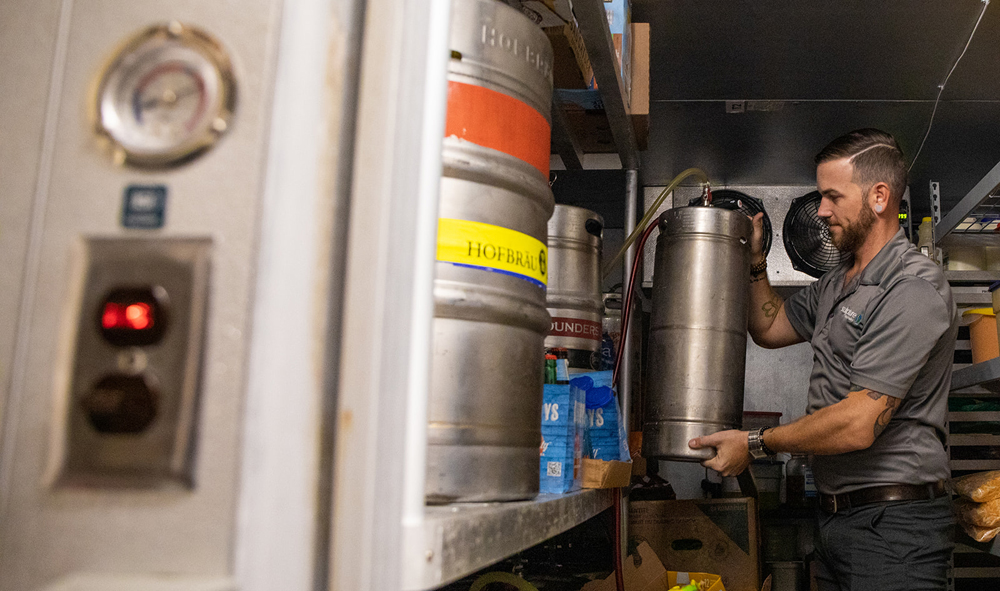 While PPE and cleaning supplies will take up a much larger portion of the operations budget than it did before the pandemic, some owners and managers find themselves stocking up on things that will help move whatever extra spirits, wines and beers are in inventory. Others are finding that what qualifies as a "best seller" has changed as beverage menus are shorter. There are some establishments who stopped ordering things like fresh ingredients and certain top shelf spirits in favor of others better suited for outdoor dining and take-out business.
Bottleneck Management's Gray, for example, has found that as there has been a reduction in production at many breweries, getting beer stock for his restaurants and bars can be more challenging than normal with delays or discontinued products. "Reduce the size of your menu and focus on your core selections," he advises, echoing the approach other restaurants are taking. "Focus on cross-utilization of your products and ensure that you have back-up vendors in place in case of shortages."
English recommends stepping up efforts to check expiration dates, toss any questionable juice or batch mixes and start from scratch to ensure limited stock will not only cover your modified needs but also make it easier to keep quality consistent. Depending on how long a venue is closed down, he also stresses the necessity of staff retraining and managing their expectations as the COVID situation changes to ensure that the venue can deliver a great guest experience.
"It takes a lot of research," Flores says, regarding the ongoing process of shifting what to order or what not to order. He says that if he runs out of a specific liquor that's the basis for a top selling cocktail, he will research what would best replace it instead of scrapping the cocktail and creating a new one. Online ordering, meanwhile, allows him and his staff to adjust a given recipe quickly as some stock runs low. He acknowledges that stocking both canned cocktails and the supplies needed to create and package them in-house has helped in the inventory management process.
While liquor is generally not challenging to source for Hermanito's particular needs, in contrast, as some liquor companies he works with have an abundance of stock, Florez has found cans themselves are hard to source as so many places have adopted the practice of doing canned cocktails in-house, prompting him in turn to outsource and buy pre-made cocktails from outside companies. "Packaging has been top of mind," he adds. "Before, take-out did not really require as much thought. But now we're asking ourselves, 'What type of straw do we need?' or 'Should we put our logo on every package that goes out?' These are questions we never asked ourselves before."
An upside of ordering canned cocktails from certain suppliers or making and packaging cocktails in house—even with the challenges of finding good packaging—is that it downsizes inventory needs, according to Florez. "This eliminated about two thirds of our inventory, which is almost down to the bare minimum," he says. "However, things are still evolving. During the first shut down, we just used what we had in inventory, as all that mattered was staying alive and getting through it. Early on, we used less expensive bottles of tequila for our margaritas and saved the pricier bottles for flights. However, once we ran through the $9 bottles, we had to start using our $15 bottles rather than replacing the cheaper stuff."
By the same token, Barcelona Wine Bar's Nevin-Giannini explains that although the restaurant group has maintained long standing relationships with a core group of producers, reduced sales has hindered efforts provide them continued support and compelled its buyers to shift the focus when procuring wines. "(While) we are doing our best to support them, as the pandemic hit we were just starting to see the impacts of the tariffs start to creep up pricing," she says. "We had to move away from some wines that were no longer profitable for us. My focus for finding new products this year has been on finding incredible value for our guests. We've been on the hunt for those diamonds in the rough that are able to provide a killer bang for your buck."
Bottling Some Common Sense
With supply and demand currently in a constant state of flux, Vasquez suggests staying in touch with the various reps you work with to be in the know on what products are available, finding good cost effective substitutes when your go-to products run out, and getting ideas or recommendations on how to source hard-to-find things or having a couple of different payment options available as things change. Optimizing to-go purchases can also be a great strategy, especially if the restaurant has a strong retail or to-go business that existed before the pandemic. In the case of Madre, Vasquez realized he could leverage the fact that regular customers have long found Madre to be one of L.A.'s best destinations for top tier and hard-to-find Mexican spirits.
"We've had an increase of bottle sales because of take-out orders and the fact that our bar customers see us as a definitive source for rare and artisanal tequilas and mezcals with more unusual selections than your average liquor store," says Vasquez. "Another key to our success is (tracking social media and traditional media) on weekly basis to see what's trending and what people are buying, depending on the season and depending on the economy and this pandemic. As some of our most popular anejo and reposado tequilas right now are sold out, this is where constant communication with our suppliers becomes really important. They help us track what brands are on trend, and what we need to do to ensure we can fill the demand."
According to Vasquez, it is also important to evaluate which spirits and products are not moving so purchases can be discontinued, or what's left over can be repurposed. He reasons that as new artisanal and niche mezcals enter the market, keeping up on the newest releases and expressions is critical, especially as many customers are just as savvy about what's coming out via social media and websites information. With overstock of older high-quality spirits, the staff has come up with appealing ways to move them out from storage to the customer.
"During one of our weekly meetings, we figured out that we could reduce that stock by putting these into tequila and mezcal tasting flights, especially as we now have supplies that allow customers to buy flights-to-go," he says. In most cases, with overstock, those older spirits are not bad, but they're probably not moving as there may be a new distillery or spirit brand out there getting people's attention through social media. New expressions are very hot right now because most of our customers are are well educated and actively look for new products and expressions every every couple of months to keep up—even during a pandemic."
That said, with almost half of mezcal and tequila production slashed in the spring and summer of 2020 due to the pandemic, Vasquez says extra effort is required to find suitable substitutes whose quality and pedigree matches up with a spirit that's no longer available or in short supply. This involves tracking down the lot or batch number, and then finding something comparable produced by the same distillery or spirits produced around the same time by another distiller that has a similar flavor profile, price point or level of quality.
Madre's management is also finding that the greatest inventory needs beyond spirits, beers and wines include small glass bottles for tasting flights, plastic bottles for to-go cocktails, and boxes and wrapping paper for custom gift boxes for customers interested in surprising their tequila or mezcal enthusiast friends (which, in turn, may incorporate some of the higher-end spirits that are not selling as much). As Vasquez sees it, the goal of these extra investments is, "Creating a whole experience in the box" to bring people back later.
English has also taken note of the many creative ways his accounts are reinforcing customer loyalty through how they package their to-go drinks. "I have one location use Mason jars for to-go, while others use Solo cups with lids," he details. "As the months go on, some have put their brand on to-go cups or went for reusable cups so the customer could see their brand at home. I have seen a number of clients utilize 'deadstock' that they have been sitting on for months or years to push items out the door. I see some adding clients adding coupons to their to-go drinks to get people to come back for a pizza another night or another drink."
In a similar fashion to the high-end Mexican restaurants in Los Angeles, Nevin-Giannini says that Barcelona Wine Bar's management has arranged to set up retail marketplaces in all of its outlets, with a selection of staff and customer fan favorite wines at retail pricing to-go. They have also tapped into their house-made sangria with a well-received to-go variation, La Sueca. "It has been awesome to be able to tap into retail sales, and being able to offer wines (and cocktails where allowed) along with our to-go food has been a game changer," says Nevin-Giannini. "It's helped us weather the times where we've had to be takeout only or for our colder climate locations that have only outdoor dining."
Even with governments making accommodations to allow off-premise beverage enjoyment and creativity invested to keep inventory in check, venues and customers alike look forward to the emergence of a "new normal" with open bars without restrictions. As the rethinking of inventory is a learning process, however, venues will emerge with a stockpile of smarter ways to manage their stock in better times.
Featured Recipe
House Paloma
Amal Flores, co-owner, Hermanito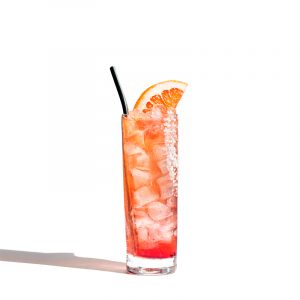 Grapefruit soda
Cointreau, or Lo-Fi Gentian Amaro*
Lime juice
Blanco Tequila
Recipe Note: Because of our changes in inventory, we replaced the Cointreau with Lo-Fi Amaro. It is half the price of the Cointreau and adds depth to a classic. We love this Paloma recipe with Lo-Fi Gentian Amaro because it amps up the classic recipe with a California aperitif that's made to pair with agave based spirits. The big three ingredients that shine are the ginger, hibiscus and grapefruit in the amaro. This elevates the flavors in the tequila and makes the drink a little pink to boot!
Article By Elyse Glickman
Recipe photo: Hermanito.