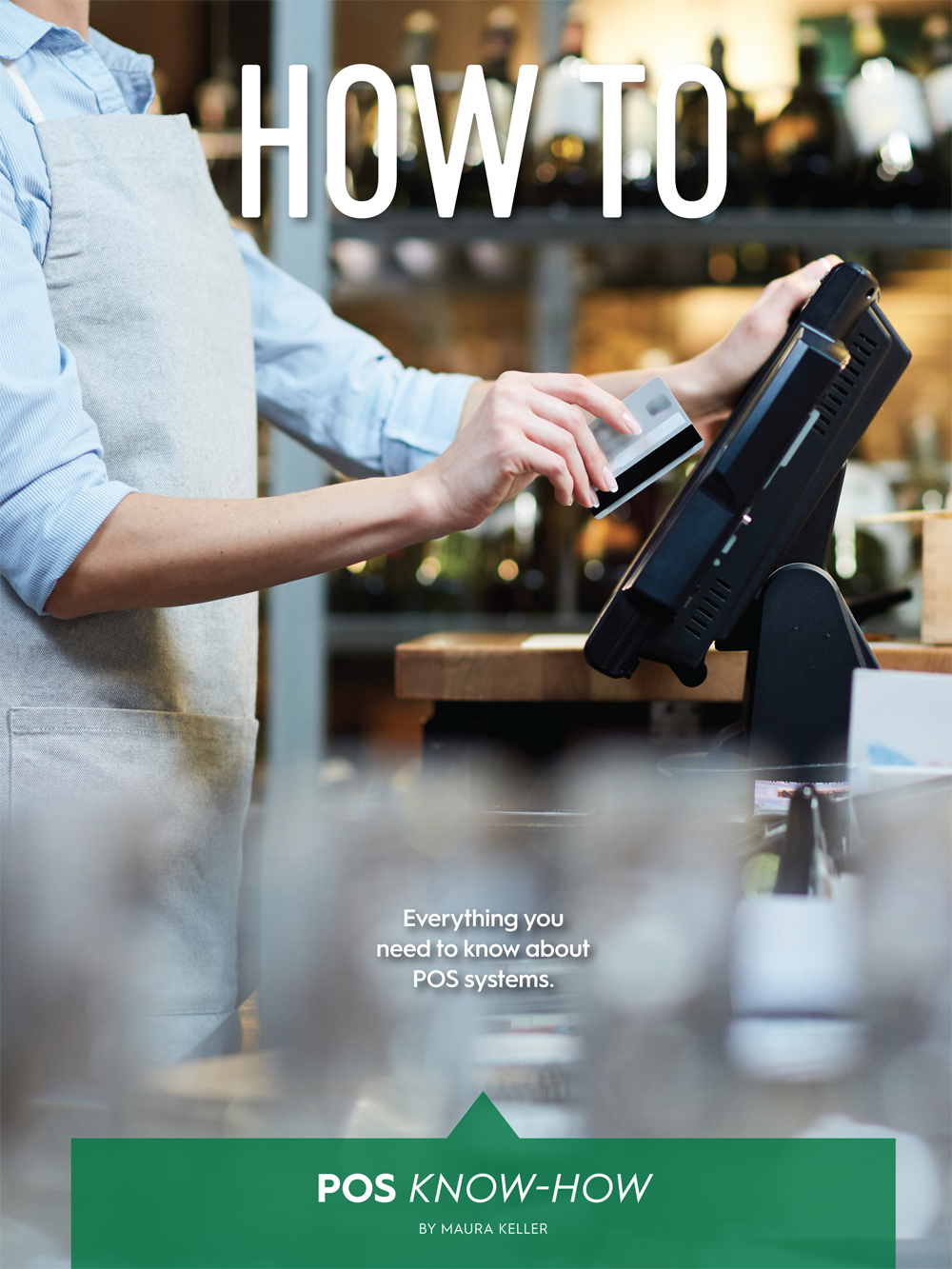 Having trouble keeping track of inventory? Wishing you knew which hours were the most profitable? Looking for an easier way to streamline complicated orders? Enter point-of-sale (POS) systems. These computer-enhanced software systems are making life a little bit easier for bar businesses across the nation.
Evolving Technology
In recent years, POS systems have become more and more accessible to bars and restaurants in terms of both affordability and practicality.
Making POS Work For You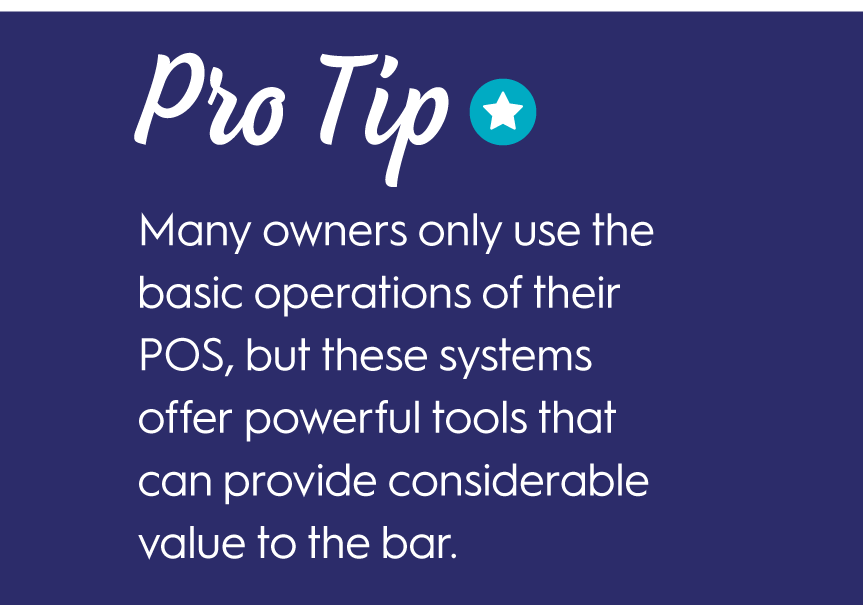 According to Joe Messina, Executive Vice President of Sales at Harbortouch, bar owners should make sure they are taking full advantage of all the functionality offered by their POS system. Many business owners only use the basic operations of their POS, but these systems offer powerful tools that can provide considerable value to the business. 
"Another underutilized POS feature is the customer database," says Messina. "Most POS systems offer a customer database that can be used for direct marketing, loyalty programs, or customer appreciation initiatives. POS systems can serve as powerful business management tools when all of their functionality is utilized."
Alex Barrotti, TouchBistro CEO and Founder, says that with integrated loyalty programs, POS data can be used for marketing promotions such as birthdays, Valentine's Day, or other holiday celebrations.
"The management reports provided by a POS should cover all aspects of sales activities, inventory control, and staff assignment and productivity," explains Barrotti. "Good bar or nightclub management become well versed in analyzing these reports to improve operations."
POS systems offer extensive reporting capabilities beyond basic sales figures.
"Many of these reports can deliver valuable information to bar owners and help them make more informed business decisions," says Messina.
These reports can identify top-selling and poorly selling items to help guide menu changes, determine the busiest days of the week and times of the day to assist in employee scheduling, and even identify the most productive employees.
The point-of-sale market continues to evolve rapidly. Software innovation, especially in the last few years, has made the lives of bar/nightclub owners much easier. 
If you're using a modern solution featuring cloud software, new features are being continually pushed to users. Mark Schulze, Co-Founder at Clover and Vice President of Business Development at First Data, says bar owners need to periodically check-in to see what new features have been deployed to their system.
"It's not just about taking cash payments anymore," says Schulze. "Adoption of mobile payments by consumers has grown, so you need to make sure you're able to accommodate them in your point-of-sale. Also, operational improvements continue to be made making customer management, table management, and ordering much easier."
How often bar owners should upgrade their POS system depends on the age of the system and the extent of its use.
"Bar owners should upgrade every three to five years or as new software is available," says Jeff Banner, Director of Solutions Engineering at CPT Network Solutions, which specializes in POS systems for restaurants and bars. "Sometimes an update might not require the system to be replaced—just updated with the latest and greatest if possible. Some telltale signs may be the system running or operating at a much slower speed—the operating system might be just outdated."
Safeguarding Practices
With the ongoing data breaches across a myriad of industries, bar owners and operators need to ensure that sensitive data like customers' credit card information is protected. Data breaches have been in the news regularly over the past few years, and small businesses such as bars and restaurants can be hit especially hard by these breaches.
To protect cardholder information and avoid costly data breaches, bar owners should make sure they implement the "security trifecta" at their point of sale. The trifecta consists of point-to-point encryption (P2PE), tokenization, and EMV.
According to Messina, P2PE technology encrypts payment data as soon as the card is swiped so that this information never enters the POS environment. Tokenization replaces card numbers with a random alphanumeric code so that the data is useless to potential hackers. And EMV technology transmits card information via an embedded microchip, providing more advanced security than traditional magnetic stripe cards.
"When these technologies are combined, the security trifecta offers maximum protection against data breaches," says Messina.
Banner says that one of the most important ways to ensure data is protected is to make sure owners are using managed switches and that the PIN pads or credit card machines are using their own switch ports/VLAN.
"In the past, a lot of retailers, bar owners, etc. were using unmanaged switches and the credit card machines were using the same switch port as the register, which increases the risk of exposing extremely important personal customer info like credit card numbers," says Banner.
The common practice of opening a tab by holding a customer's credit card behind the counter is fraught with risk as well. You never know what can happen by holding that physical card in a busy bar environment.
"Modern point-of-sale solutions allow you to pre-authorize credit cards and give it back to the customer," says Schulze. "You're still able to keep track of orders and get paid at the end of the day, without the risk of keeping your customer's credit card out in the open."
Eric Elwell, CEO at 2TouchPOS, says it's important for bar owners to monitor magstripe readers and USB ports of their hardware. Don't make it easy to stick a thumb drive in one of your machines and catch some malware. Only use your POS for POS activities, which means no surfing the web or reading emails.
"Make sure there are no skimmers on your mag readers," says Elwell. "Modernize your payment equipment and expand capabilities as well as security. Also don't let your guard down on security. Change codes, use badges, invest in bio readers, and don't take your eyes off voids and comps."
Mistakes To Avoid
The most common mistake that many bar owners make with their POS system is simply not utilizing all of the powerful features available to them.
"POS systems have advanced capabilities that enable them to serve
as the bar's operational backbone, improving both general operations and management functions," says Messina.
Bars that look at POS systems as only
a way to handle transactions are missing a big opportunity to improve their overall business operations through efficiency gains, reporting capabilities, enhanced customer experience, and more.
"Don't be scared to implement new technology at your bar," says Messina. "Many newer POS systems offer third-party integrations and add-on equipment that can further increase
the system's functionality and the benefits to your business. This includes integrations like online ordering, online reservations, and loyalty programs, as well as the addition of mobile terminals for tableside ordering or payment."
Barrotti sees the most common mistakes bars make with their POS systems as bar owners not implementing the proper security measures, not tailoring the reports for their unique operation, and not comparing the information provided in the reports to analyze where the operation can be improved or may be leaking money.
"They are leaving so much on the table if they are treating the POS as just a cash register," says Barrotti. "A POS can provide far more actionable insights on what can be done to run a more profitable and successful operation, such as determining the most popular drinks, the busiest time of day, which staff are the most productive, and what menu modifications are in most demand."
Many modern systems also feature integrations with payroll systems, accounting, etc. so bar owners should consider enabling those integrations. As Schulze explains, those integrations will streamline a bar's workflow, allowing business owners to serve more customers during the day and close out faster to get home to their family and friends.
"We have seen businesses transformed with something as simple as a time management application integrated with their POS," says Schulze. "One bar owner was not confident that his employees were opening and closing on time. With the addition of a time and attendance management application, he was armed with a better understanding of the operation of his business. In fact, his POS would text message him notifying him when staff showed up late or not at all. That simple change gave him the peace of mind he needed to leave town for a long weekend with family. He said it was his first vacation in 10 years."
On the Horizon
Messina sees two big trends that are going to impact bars and restaurants in 2019 as it relates to POS systems. The first is the shift to order-at-the-table and pay-at-the-table solutions.
"We are finally at the point where this technology is coming down in cost so that it's more affordable for small- to mid-sized restaurants and bars," says Messina. "This is the way the rest of the world handles payments in a table-service environment and it's only a matter of time before the U.S. catches up."
The second trend is the increasing
use of online ordering and delivery applications. "These third-party solutions will continue to represent a larger part
of restaurants' overall revenue as more consumers turn to the convenience
of these apps," says Messina.
Some of the biggest innovations Schulze sees in 2019 also relate to smartphones and how they can make customer interaction more meaningful. From attracting customers, to placing their drink orders, to offering a slick checkout experience, Schulze predicts this process will be entirely managed on smartphones.
"Already people are using their smartphones to order ahead. This will continue to become more and more mainstream," says Schulze. "There will be a lot of learning, but we expect all aspects of the merchant and customer experience to see massive improvements over the next number of years."
---
Want to stay up to date between issues? Subscribe to our newsletter.