HEINEKEN USA's Emerging Brands Group focuses on diverse, on-trend labels.
By Tanya Lawrence
W
ith a global portfolio of over two-hundred-and-fifty beer brands, HEINEKEN, the world's most international brewer, operates at present in more than 70 countries worldwide. In the U.S., HEINEKEN USA (HUSA), the leading importer of premium beers, has piloted the nation's upscale beer market not only through the success of their global flagship lager, but also with burgeoning core brands and innovative portfolio inclusions, as well.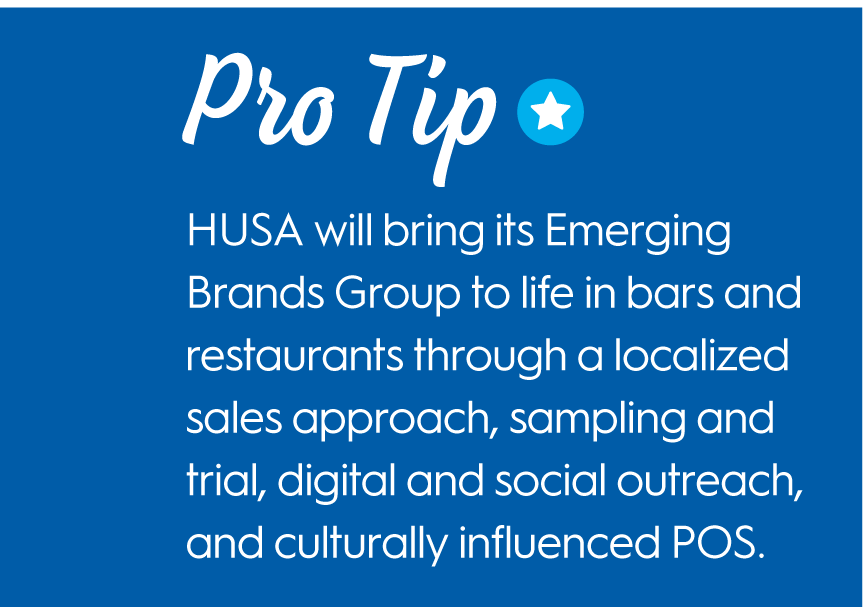 Now, in a mission to further cultivate the best and most-recognized international beer brands here in the States, HUSA has established the Emerging Brands Group. This newly restructured portfolio offers an array of diverse, on-trend, and relevant labels—including Amstel Light, Red Stripe, Tiger, Newcastle Brown Ale, Strongbow Hard Ciders, Birra Moretti, Murphy's Stout, Prestige, and Cerveja Sagres—to high-potential markets and variety-seeking consumers alike.
Citing trends in brand fidelity, regional availability, and even communal influence, Jessica Robinson, Vice President of Marketing of HUSA's Emerging Brands, states, "Today, more than ever, consumers choose products that appeal to specific occasions, taste preferences of the day, or the desire to try something new. Our broad portfolio of authentic brands allows us to provide unique solutions to meet ever-changing consumer needs. For each of our distinct brands, we will take a localized approach in how we sell them and how we bring them to life in bars and restaurants through sampling and trial, digital and social outreach, and culturally influenced POS."
To increase account traffic and drive incremental import beer sales in 2019, HUSA will provide increased localized marketing and promotional support, targeted sales strategies, geo-specific data analysis, and amplified on-site representation.
In addition, the team will focus on educating consumers through the exploration of these brands' intriguing histories, novel packaging, interactive marketing, and exciting new campaigns alike for core brands, including:
Amstel Light, "The Beer Drinker's Light™ Beer," at 3.5% ABV and 18 IBU, is delicately hopped and lightly carbonated with a smooth, crisp finish. Amstel Light is lower in both alchohol content and calories, making it ideal for active individuals who crave the benefits of cutting calories without sacrificing flavor.
In 2019, HUSA will bring a renewed focus to this iconic light lager through digital outreach, sampling, and on-premise activations spotlighting the active consumer's passion points, such as golf, skiing, and tennis.
Newcastle Brown Ale, at 4.7% ABV, is the gold standard of brown ale since it was first introduced to the world
in 1927.
In 2019, HUSA will be relaunching Newcastle Brown Ale through a collaborative partnership with sister company Lagunitas Brewing Company, one of the fastest growing domestic craft brewers. The result is a fine-tuned Newcastle Brown Ale brewed with Centennial and Chinook hops for a delicious hoppy twist and a smooth malty finish updated to craft drinkers' tastes.
Red Stripe, 4.7% ABV, the beer that embodies the big spirit of the little island of Jamaica, has set the standard for Jamaican-brewed lager since first being introduced in 1928. Red Stripe's distinct full-bodied and smooth taste and beloved, stubby bottle have been winning favor with American consumers since the brand arrived on U.S. shores in 1985.
In the coming year, HUSA will expand Red Stripe's appeal by tapping into Caribbean cultural passions through sponsored festival events, sampling, and grass roots activation. The embodiment of good vibes and positive energy, Red Stripe will be taken to all-new national heights and made accessible to all: no passport needed.
Tiger Beer, at 5.0% ABV, has won in excess of forty international beer awards and accolades. Tiger Beer, imported to the U.S., is brewed entirely by the sun and made with only the finest ingredients resulting in a unique, intensely refreshing, and full-bodied Asian lager.
In 2019, HUSA will be "uncaging" Tiger's culture through innovative digital engagement, increased sampling activations, and creative collaborations with artists, technologists, chefs, designers, entrepreneurs, etc. that will introduce more on-premise consumers to the great taste of Tiger Beer.
Strongbow Hard Ciders, HEINEKEN'S flagship cider brand,
is the world's number-one selling hard cider brand, representing a viable solution for non-beer drinkers who prefer crisp refreshment. Strongbow offers five gluten-free flavors in the U.S. including, crisp 4.5% ABV Gold Apple and dry 5.0% ABV Strongbow Original Dry.
In 2019, Strongbow will be the first to market with an innovative 100 Cal Slim Can Variety Pack, tapping into the booming canned wine, cocktails, and seltzer craze and providing consumers with an attractive, portion-controlled, and mobile solution for social gatherings and recreation. Strongbow will introduce the slim cans in a multi-pack format featuring three varieties—Original Dry, Rosé Apple, and Dry Pear—that offer crisp, light, and dry refreshment.
"Our Emerging Brands portfolio has a diverse range of credentials that fit a wide variety of beer drinking occasions," says Robinson. "Our plan is to work with our distributors and on-premise partners to deliver these brands with straightforward messaging and turnkey solutions. By doing so, we will help drive account traffic and incremental import beer sales. Getting consumers to try our beers and ciders is the first and most important step to adoption and loyalty.
"This year, we are significantly increasing our investment in sampling and education activations on-premise," continues Robinson. "We believe to taste is to believe, and to believe above all is to have a significant impact on driving on-premise sales."
---
Interested in more content like this? Subscribe to our monthly magazine.