Taffer's Tavern, the new franchise from entrepreneur, hospitality expert, and Bar Rescue host Jon Taffer, officially opened its first location in Alpharetta, Georgia in November 2020. According to Taffer, despite a low-key, "very un-Taffer" grand opening due to COVID-19, the location has been popular and performing at almost twice budget. Taffer attributes the success to the one-two punch of the "kitchen of the future" and "Taffer's Safe Dining System™."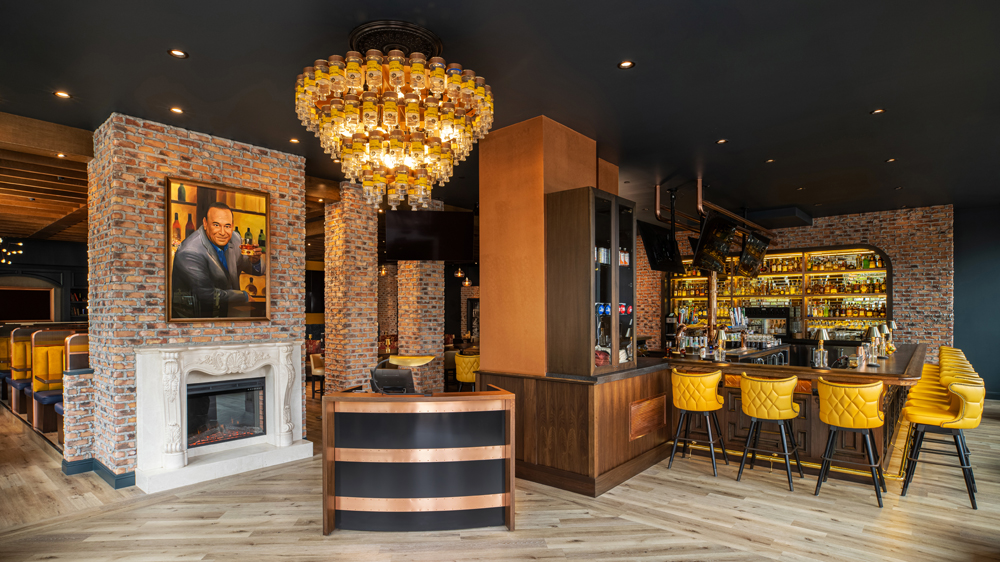 The opening came after a two-year-plus journey that began back in 2018 when Taffer asked himself, "Can I design the kitchen of the future?"
The catalyst for this question was the biggest problem facing the industry at the time—finding staff. "Unemployment was incredibly low. We were facing $15 minimum wages, which in some states, was a 600% raise. Many of the employees who were available were new Americans, so there were language barriers. As an industry we were in trouble," says Taffer. "The casual dining model didn't work anymore. So [I asked myself,] 'Can I design the kitchen of the future? Can I actually create a restaurant concept that uses 60% less human resources in the kitchen infusing robotics, computer cooking systems, computer technologies, food technologies? Could I create a really high-quality restaurant in that fashion?'"
To answer these questions, Taffer spent two years testing products and working in Cuisine Solutions' test kitchens, a manufacturer of premium sous vide products. He also partnered with top manufacturers and brands in the industry. On cooking technology, he worked with Middleby Corporation, a manufacturer of commercial kitchen equipment, which owns more than 75 brands (Perfect Fry, Turbochef, etc.). He partnered with stainless steel underbar equipment and backbar refrigeration manufacturer and supplier Krowne on bar technology. For the transactional technology, Taffer turned to Shift4 Payments, a leader in secure payment processing solutions. And for the accounting, workforce, and back office technology, Taffer chose all-in-one restaurant management software provider Compeat.
With his team assembled, Taffer ripped up the plans for a traditional kitchen and started building an all-new concept from the ground up. The result was what he dubs the "kitchen of the future," which includes no hood, no stove, no raw protein, and sous-vide cooked food. The model operates with 40% less labor and at more than half the costs of a conventional kitchen.
"Everything is incredibly high technology out of commissary kitchens that is incredibly well prepared," says Taffer. "Everything is systemized, controlled, practiced, monitored, and our quality really speaks for itself."
Not only is the new kitchen model more efficient, it's also safer, which has proven to be a vital component in the time of COVID-19. "We don't have raw product, we have less counter space, there's no contact with food. Our cooking time is four to six minutes. We realized this is the safest operation. We then said let's take it to the next level and create the Taffer Safe Dining System™," says Taffer. "Safety obviously is paramount to us. We weren't comfortable proceeding until we knew we had a safety program that could protect everyone."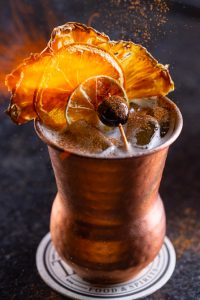 The system includes a number of safeguards, including employee temperature checks throughout the day; no personal hats or clothes in the kitchen; and the use of mask, gloves, and other PPE by kitchen staff.
A large part of Taffer's Safe Dining System™ focuses on creating a safer method of serving guests. It starts before the guest is even seated. An employee sanitizes the table and seats and then places a round disc featuring the Tavern's logo on the table. The hostess isn't allowed to seat guests unless that disc is there, indicating that the table has been sanitized.
From there, actions and transactions are compartmentalized into three categories. Servers sell the menu and take orders, interact with the table, and remove items from the table, but they do not bring anything to the table. "They're focused on connecting with the guests," says Taffer. "All of our interactive dynamics training and connective training is much more powerful because of that compartmentalization."
Food runners only bring clean, sanitary plates, glasses, silverware, and food/drink, and they take nothing away.
Lastly, the guest completes transactions (payment, tipping, etc.) through technology or through another separate individual.
Technology plays a large role in Taffer's Safe Dining System™. Taffer's Tavern partnered with PathSpot Technologies to bring in its hand scanner, which uses light-based detection to provide real-time feedback on the quality and effectiveness of every hand wash for restaurant staff. The scanner delivers results in less than two seconds via a green or red light. A red light means harmful contaminants are detected, and team members must rewash their hands.
Working with Krowne, Taffer's Tavern installed a nitrous system in the bar area, which is used to treat every piece of glassware before a cocktail is made. "It is slammed with nitrous brought down to such a cold temperature that any viral or bacterial contamination is completely destroyed," says Taffer. "And that happens right in front of the customer—every glass, every time."
Speaking of cocktails, Taffer turned to Phil Wills, master mixologist from Bar Rescue and co-founder of L.A. beverage-consulting company The Spirits in Motion, to shape the beverage program. The bar menu features a diverse selection of spirits, wines, and beers, many of local and regional provenance.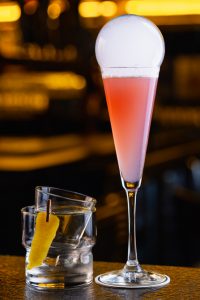 Where the menu really shines, however, is through its signature cocktails, many of which fans of Bar Rescue will recognize (i.e., The Resurrection). The program employs some of the most advanced mixology techniques to create cocktails with great visual presentation. Effects include smoking wood chips and a cocktail crowned by a bubble that pops when placed on the table. The flight, typically reserved for beer tastings, has been transferred to cocktails, with guests getting the chance to sample four of the most popular cocktails on the menu.
"Every cocktail has very high standards of quality, but very high standards of presentation as well. You'll see no standard glasses, no standard anything. We really wanted to provide what we felt were social media cocktails," says Taffer, who notes that most of the photos shared online about Taffer's Tavern pertain to cocktails. "It shows the power of presentation not only for the guest but as a marketing vehicle today. Presentation isn't in your four walls anymore. If you do a good job, it's blasted everywhere."
For the food menu, Taffer focuses on comforting, mainstream foods featuring staples like burgers, steak, pot roast, fish and chips, roasted chicken, etc. "By doing so, we have a broader demographic footprint," says Taffer. "Every trend has an end. Classic doesn't end."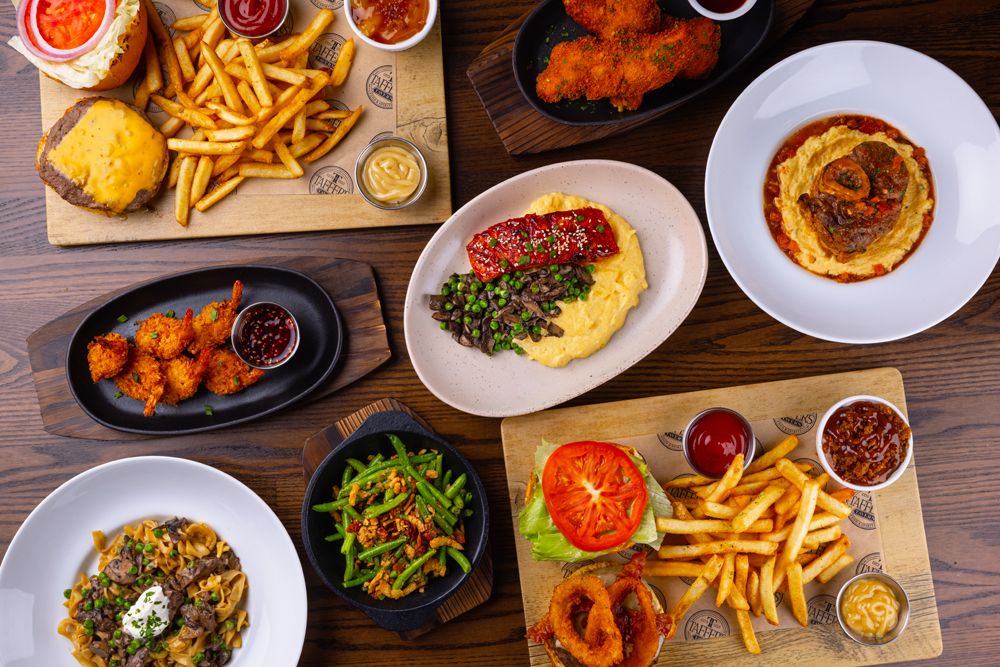 That ode to the classic also feeds into why Taffer chose to use the term "tavern" above all others. "Taverns have an image of warmth, taverns always have food, taverns always have this length of stay—you stay longer in a tavern," explains Taffer. "We felt that the word 'tavern' best fit the experience that we were trying to create of great food, great drinks, and a very warm, cozy experience. I wanted Taffer's Tavern to be part of the community."
Duncan Miller Ullmann was tasked to design a look for the inaugural location that fit with the warmth Taffer's Tavern wanted to exude. The location features warm colors, brick, masonry, woodwork, raftered ceilings, and metals without shine.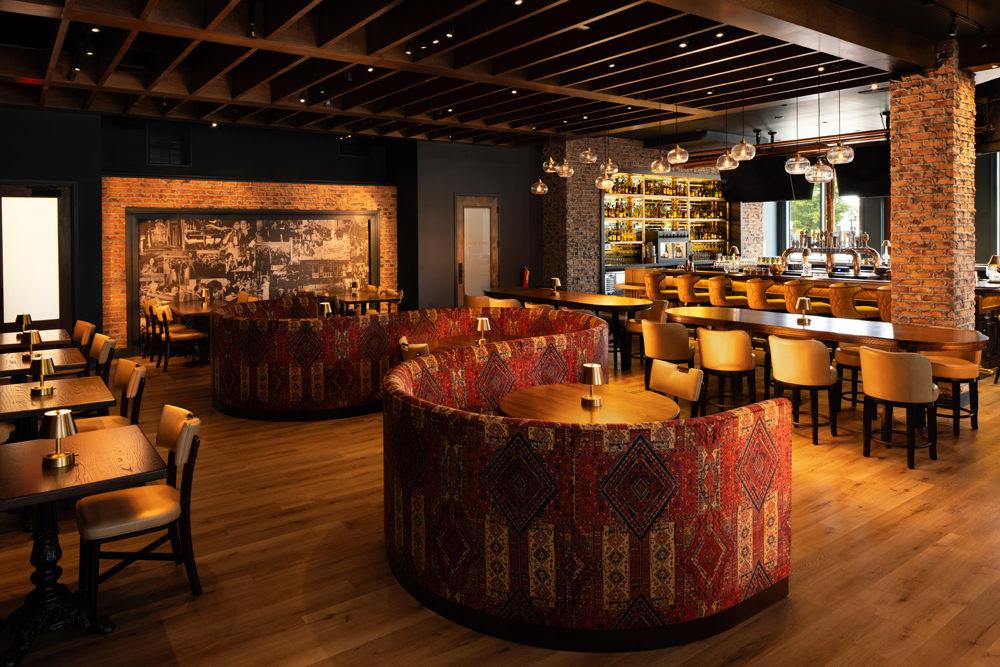 "We also infuse technology all over the place with tablets, a video wall. On one wall of the restaurant, the entire wall moves down to the floor and becomes a stage. But when the wall goes back in place, you'd never know there's a stage there," says Taffer, who explains they wanted the ability to make the stage appear only when they needed it on special nights like New Year's Eve. "The worst thing a bar can ever have is a stage with nothing on it."
More Taffer's Taverns will soon open in Georgia, Washington, D.C., Virginia, and Boston.
And while it's unrealistic to think every bar/restaurant will be throwing out their stove in favor of a kitchen of the future model, Taffer says the main point to take away is a need for greater systems and procedures in the bar industry. "Sanitation is going to be more evident than it's ever been before," says Taffer. "If we don't have systems to keep people and employees safe, and it hits social media, it's a different world. There is an accountability online today that holds us all to the fire. The expectation of guests have gone up."